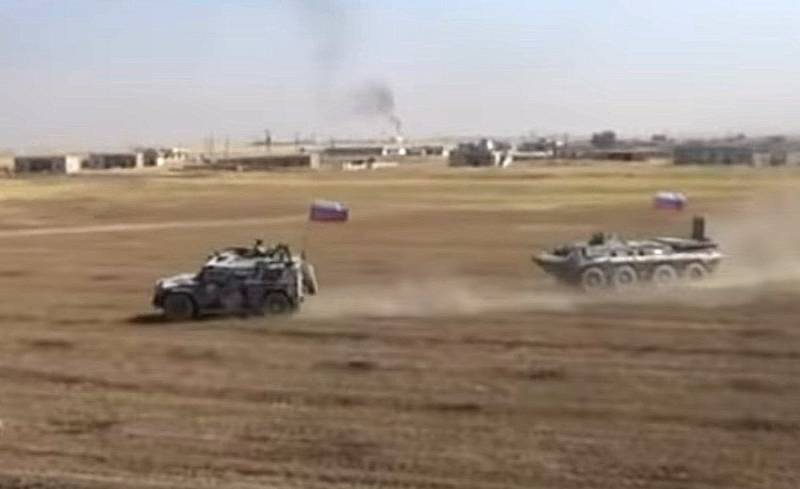 Russian and US military personnel increasingly clash in road confrontations in Syria. One of the last cases happened the other day. After a short pursuit of the Americans by the Russian military, the Russian military blocked the "tail" of the US patrol, after which a conversation took place between the military of both sides. The American reaction to the incident became quite predictable.
The representative of the Russian army explained to the American soldier through an interpreter that the Russian Armed Forces were in the SAR at the official invitation of the country's authorities. He then asked a US colleague what American troops were doing in Syria, but received no answer. The Russian serviceman also asked the American to convey to their general an urgent request that the Russians no longer be pursued.
The reaction to the chase in Syria came from a number of US figures.
The US president plays golf as the US military clashes with the Russians in Syria, all due to Trump's hasty decision to cede two-thirds of the once-stable territory to Putin and Erdogan. Mr. President, call the Kremlin and tell Putin to stop the pursuit of American soldiers
- indignant
in his twitter
Brett McGurk is a former United States envoy to the anti-ISIS coalition.
This story is among other similar testimonies of the complete lack of leadership in the White House, as well as the neglect of the lives of US citizens by the head of state. Our troops should never be in such a situation. Trump, apparently, is not aware of what is happening at all - this will not be shown on cable channels
-
adds
McGurk.
Incredibly, the emboldened Russian orders our soldier to convey information to the general!
-
expresses
her indignation Bianna Golodryga is a Russian-speaking reporter for CNN.
Such clashes occur once a month, but before that everything was peaceful
- said Colonel of the US Army Miles Kaggins - a representative of the military coalition in Syria and Iraq, led by the United States.
The American military noted that the Pentagon has a communication channel with Russia and uses it to prevent possible clashes.