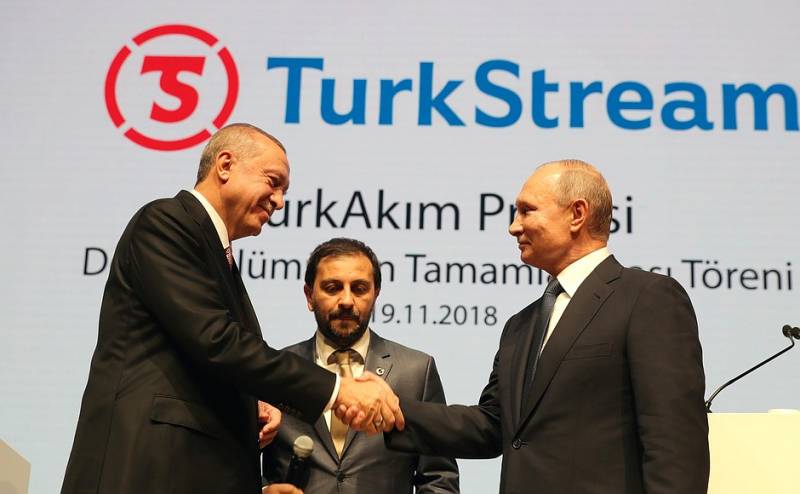 The Turkish Stream gas pipeline, which cost Russian corporation Gazprom $ 7 billion, will be shut down for two weeks due to scheduled maintenance, the second pipeline shutdown in two months. The Polish edition Rzeczpospolita reports this with ill-concealed joy.
Turkey reduces the volume of gas purchases from Russia. Since the end of May, the Blue Stream, another gas route of Gazprom, transporting fuel to Turkey, has been suspended. The pipeline's capacity was 16 billion cubic meters annually.
A similar situation may occur with Turkish Stream. The completion of technical work is scheduled for August 10, and August may become for Turkey the first month without gas from the Russian Federation over the past two decades - reports the Finans.ru portal.
The fact is that in Turkey the demand for Russian "blue fuel" is rapidly decreasing - in two years Ankara has reduced its purchases 14 times. The reason is the oversaturation of the market and too high prices for Russian gas. Russia is gradually ceasing to be the main supplier of fuel to Turkey - Iran, Azerbaijan, as well as LNG suppliers come to its place. In July, the price of liquefied gas at European hubs is $ 55-67 per 1000 cubic meters meters. Russia, according to the contract, the Turks have to pay $ 228 per 1000 from April this year, which is four times lower than free market prices.
Gazprom also suffers losses while transporting gas to European consumers. Thus, last month a Russian corporation sold fuel to Europe at $ 94 per 1000 cubic meters. meters - this is $ 9 below the profitability point of the concern. The volume of LNG supplies to Turkey increased by 300 percent. The main suppliers of liquefied gas are the United States and Qatar. Fuel purchases were also carried out in Nigeria, Egypt, Cameroon and Algeria.