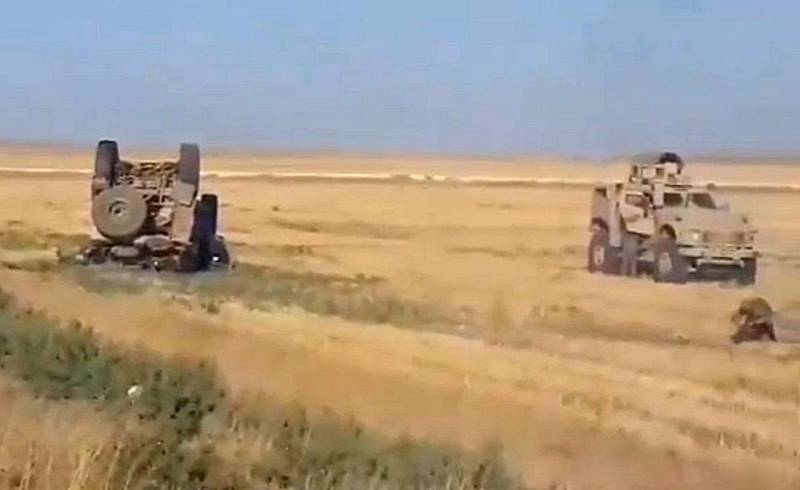 Social media has seen footage of an overturned American MRAP Oshkosh M-ATV wheeled armored vehicle in northern Syria. Some humorously believe that this is "the work of Russian military personnel" - quite likely, given the various kinds of conflicts between American and Russian soldiers in Syria.
So, a few days ago, US armored vehicles
tried
at high speed over rough terrain, taxi onto an asphalt road. A Typhoon, a Tiger and an armored personnel carrier of the Russian military police headed across to them. After that, a sharp conversation took place between the military on both sides.
Users of the Russian segment of the Internet have appreciated the American shape-shifter:
Exactly, ours cut
- Vitaly Vitaliev has no doubts.
American MRAPs often roll over, this is not
news
- user Jiucmonag reassured everyone.
Well, there is nothing surprising. It is strange that this 4-meter armored shed does not flip over so often with its center of gravity
- echoes Vyacheslav Pereyaslavsky
Apparently, he wanted to overtake the Russians, but as always he could not resist on the bump
- Ruslan Maslennikov sarcastically clarified.
It's okay - now, as usual, the Russians will come and take out
- suggested Yegor Bolshakov.
Donnie (Donald Trump - ed.) Has already signed a decree on new sanctions. "The Russians will answer for this monstrous provocation," said the Pentagon
- exaggerates a certain Mj Md.
One soldier died as a result of the coup
- the user Arnold Ostankinsky shared the information. By the way, this information is confirmed by the Pentagon.
They were warned in an amicable way. So the accidents began
- recalled Mikhail Zvyagin.
Probably playing catch-up with Russian soldiers again
- Vladimir Evstratov expressed his opinion.