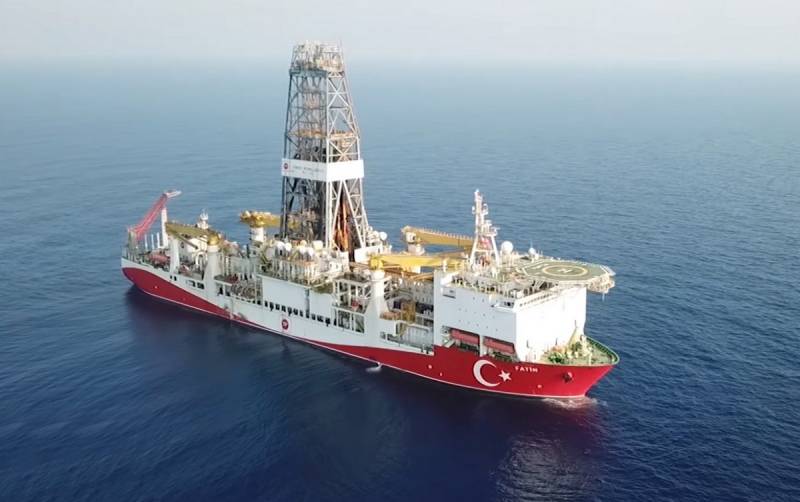 Turkey has stubbornly continued to adhere to its Blue Motherland (Mavi Vatan) doctrine. It claims to the vast waters and energy resources of the Aegean, Mediterranean and Black Seas.
On July 20, 2020, Minister of Energy and Natural Resources of Turkey Fatih Donmez announced that the Fatih vessel had begun the first drilling in the Black Sea, the Turkish newspaper Daily Sabah writes. In total, Turkey has three such drilling vessels and they all operate in different seas.
Thanks to the prayer and support of our country, Fatih began its first drilling in the Black Sea in the Tuna-1 zone
- the minister wrote on his Twitter account.
We will search every square meter of our seas for Turkey's energy independence. And we (oil and gas) will definitely find them
- he added.
The publication notes that on June 26, 2020, installation work on the Fatih vessel was completed in the port of Trabzon. A 103-meter tower was installed on it, which was previously dismantled so that the ship could pass under the bridges on the Bosphorus (the height of their arches above the water is 64 meters).
The ship is named after the conqueror of Constantinople, Sultan Mehmed II, known as Fatih. It is 229 meters long, has a displacement of almost 5300 tons and can drill to a depth of 12 km.
Zone Tuna-1 is located at the intersection of the maritime borders of Bulgaria, Romania and Turkey. Prior to that, the Turkish seismographic vessel Barbaros Hayrettin Paşa conducted exploration in the area and discovered rich reserves of natural gas. The Fatih vessel must now drill to confirm this.
A month earlier, Donmez said the seismic data was promising.
There were several discoveries in the Black Sea near Romania, in areas close to ours. Bulgaria also conducts seismic surveys. Ukraine is also doing some work
- the minister specified then.
Recently, Ankara's energy appetites have skyrocketed, which in turn has become the reason for intervention in the Libyan conflict. The Turks do not hide that they have agreed with the PNS on exploration and drilling in the waters of Libya. Therefore, the first freed drilling vessel will be immediately sent to carry out the relevant work off the coast of the North African country.