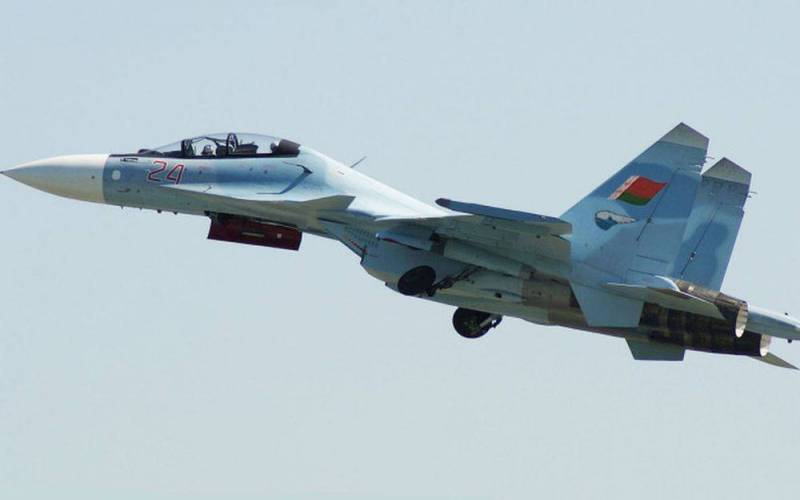 Minsk's purchase of Su-30SM fighters from Moscow will affect the country's budget and drive a wedge in relations with the West, the Internet newspaper Belorusskie
news
».
The publication recalled that on July 1, 2020, at the 61st airbase of the Air Force and Air Defense Forces of the Belarusian Armed Forces in Baranovichi, a solemn ritual of taking over combat duty of Su-30SM fighters took place. It was noted that 12 aircraft will cost Minsk $ 600 million, which is comparable to the annual volume of spending on the country's defense.
The newspaper clarified that Western media called the Su-30SM dangerous and capable of withstanding any existing combat aircraft. Although the responses of Russian experts to the Su-30SM were not so flattering. In their opinion, this fighter can only be called modern at a stretch, and therefore the interest in it from foreign customers is low. At the same time, Belarusian experts generally questioned the advisability of purchasing the Su-30SM. They consider their performance characteristics to be excessive for a small country, and the price and operating costs are excessive.
The newspaper criticized the Russian Su-30SM, pointing out that they will have only one problem for Belarus. Therefore, it is not surprising that the editorial office saw the "hand of the Kremlin".
After long delays, after agreeing to supply fighters to Belarus, the Kremlin hopes to drive another wedge between Belarus and the West. After all, the Su-30SM are long-range strike aircraft
- they think in the newspaper.
The publication reminded that these fighters should replace the decommissioned or still in service with the Air Force and Air Defense of Belarus MiG-29 / 29S, MiG-29UB, Su-27, Su-27P, Su-27UB, Su-24M / MR.
It was noted that the Su-30SM will become the country's universal striking force. These fighters can be used as interceptors, bombers, reconnaissance aircraft, as well as electronic warfare aircraft and command posts. Moreover, it is possible that the Su-30SM may be armed with high-precision subsonic air-to-surface cruise missiles 3M-14AE Caliber-A.