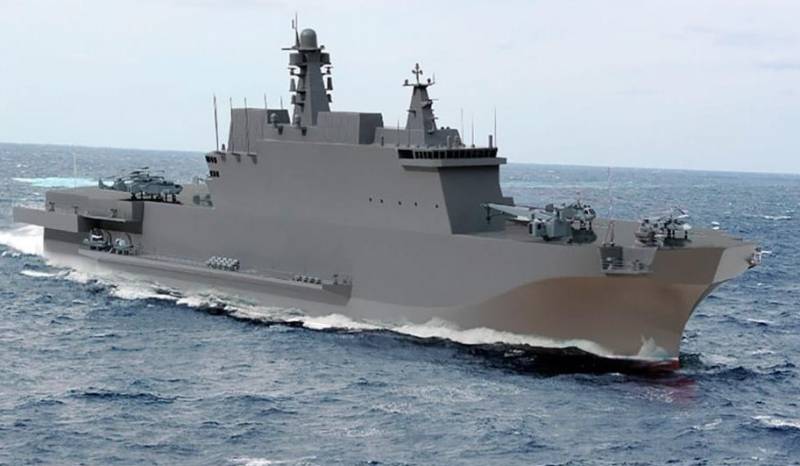 The laying of new warships at the Zaliv shipyard in Kerch (Crimea) is the subject of a new article by the Polish portal FAKTY w INTERIA.PL.
The day before, on July 20, the construction of two Project 23900 landing helicopter carriers (UDC) was launched at the Crimean enterprise. The ceremony was attended by Russian President Vladimir Putin.
At the same time, two more Project 20350 frigates and two Project 885M YasenM nuclear submarines were laid down at shipyards in other parts of the country.
Poles comments:
The funniest thing in this whole story is the statement of the Ukrainian Foreign Ministry that Putin, visiting Crimea, entered the peninsula without a visa ...

- noticed klakson.
What is the reason for the creation of such a navy? Apparently, the desire to seize the Arctic, where there are many deposits of fossil fuels. After all, Siberia is gradually ceasing to be accessible, because the permafrost is melting, forming swamps that impede the further development of gas and oil, even through existing wells. Railroad tracks in Siberia are also crumbling. Because Putin is afraid, because soon his colossus will break his feet of clay. So on the agenda is either the conquest of the Arctic, or the initiation of some other major conflict to divert attention from
economic
problems of Russia
- suggested a certain kolo.
Poland has a Gawron project worth PLN 1 billion. [Under construction] 14 years old, so what?
- reminds of the famous Polish naval long-term construction user Olgino.
We also laid the keel, but forgot to start building. As is the case with a hundred ring roads, 100 thousand apartments, a million electric vehicles. The best results of this government were the rise in prices [...] in addition to the leaping inflation

- ironically krzych35.
Heh, you don't know much about Russia. In the 90s, Russians spent 80% of their oil and gas revenues on buying food. After Putin took office, the whole country was modernized. Until 2008, it was possible to rent land in Russia for only one dollar per hectare. In such a simple way, the Russians attracted world investors by leasing hundreds of thousands of hectares of land for agricultural use. In addition, the Russians allocated about $ 10 billion a year for the development of domestic agriculture. Everyone who wanted to do it received land and money for this purpose. […] Already in 2014 Russia proved that it is self-sufficient when it comes to food, becoming its exporter.

- writes Rolnik.
In Poland, a keel was also laid for building a ship, but there are no more shipyards here ...

- noticed Biskup Polowy.
Keep it up, brothers Russians, keep great Russia!

- exclaims a certain Sąsiedzi.