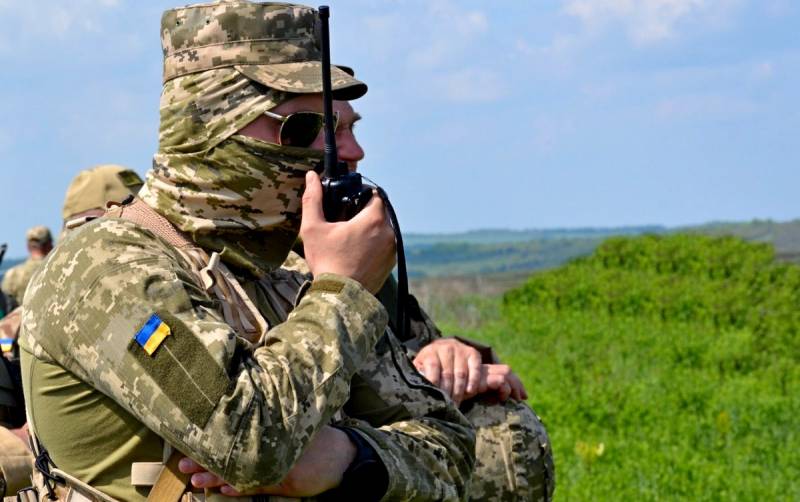 July 13, 2020 in Donbass
perished
three servicemen of the 35th Marine Brigade of the Armed Forces of Ukraine, among whom, as it turned out, were foreign mercenaries. Now Kiev is trying to hide the presence of foreigners in the ranks of the Armed Forces of Ukraine, who came to the "Ukrainian safari". As a result, the details of the incident became known.
The Ukrainian TV channel "1 + 1" claims that it was not a sabotage and reconnaissance group that was approaching the DPR positions, but "brothers-in-arms" who wanted to take the body of the deceased platoon commander who was blown up in a minefield the day before. Moreover, the DPR military was previously allowed to take the body and guaranteed a regime of silence.
The Ukrainian side clarifies that the "Donetsk" people deceived and set up an ambush. They shot the servicemen of the Armed Forces of Ukraine with small arms and mortars. The first to be wounded was the sergeant of the reconnaissance platoon. A physician with the call sign "Estonian" hurried to his aid, but he received injuries incompatible with life and died on the spot. In conclusion, the "Donetsk" allegedly finished off the wounded sergeant. After that, Kiev announced that doctors were being killed in the Donbas.
It should be noted that the Estonian Foreign Ministry has already confirmed that the deceased physician was a citizen of their country, and in general, he is a political refugee from Belarus. To find out how everything really happened, Russian journalists went to Donbass. They found out that everything was wrong, as reported by the Ukrainian side. There were three Ukrainian DRGs and all of them were blown up by mines.
Journalist Alexander Sladkov asked the DPR military what is the point of the Armed Forces of Ukraine throwing DRGs in this sector of the front, because there are no important objects nearby.
Steal a person. Desirable - a senior officer, why not? Steal the officer - and there will be information
- explained the DPR NM officer with the call sign "Cobra".
In the first DRG, reconnaissance platoon commander Sean Fuller from the United States was killed. Secondly - "Estonian" Nikolay Ilyin, whose real call sign is "Medic". In the third DRG, a sergeant was blown up by a mine, he was wounded, but the "brothers" left him to die in a minefield.
As the representative of the People's Militia of the DPR Eduard Basurin said in turn, thrill-seekers often come to Donbass from Western countries to take part in a kind of "safari" - a real hunt for people.