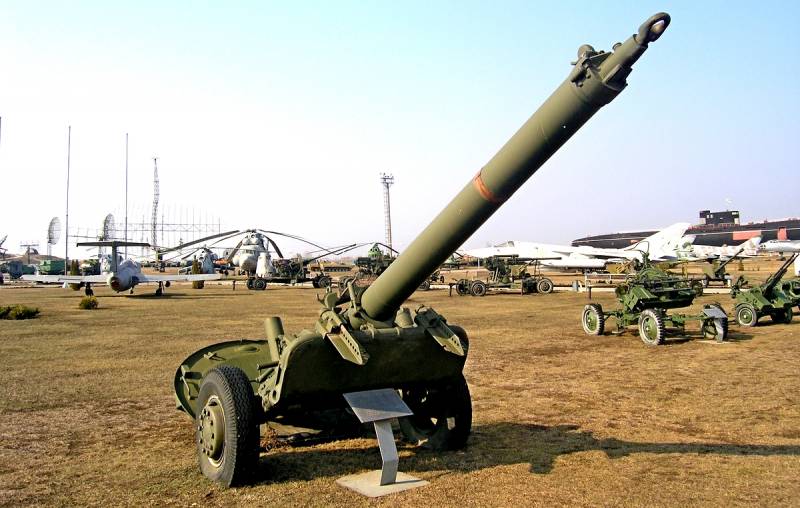 The screaming need to solve the Crimean water problem forces us to look for alternative solutions to this problem.
One of the options is the "decantation" of cumulus clouds (1500 - 6000 meters above sea level), carrying millions of tons of life-giving moisture, in the area of ​​large reservoirs.
To do this, along the perimeter of each reservoir, it is necessary to place stationary positions of batteries of M-240 heavy mortars of 240 mm caliber, which would shoot the clouds with specialized shrapnel mines (with a radio detonator for expelling containers), equipped with capsules of silver iodide.
The data for firing is given by a battery-operated anti-aircraft fire control device (PUAZO) with a ballistic computer and a meteorological radar, according to preliminary data from the central command post and the meteorological center.
Why artillery, not missiles or
aviation
type An-26 "Cyclone"? Artillery has the lowest cost of delivering a working reagent (silver iodide) to predetermined points in space, minimal environmental damage, lower requirements for personnel qualifications, higher reliability and safety, it is also important to have a large number of mortars of this caliber in storage warehouses. Artillery has a minimum reaction time. It can provide jewelery accuracy of hitting the desired cloud, when 50-70% of rainwater falls directly on the surface of the reservoir, and does not disperse over the nearby territory, absorbed mostly into the soil and plants.
Artillery fire is highly susceptible to automation of control and guidance (if the 130-kg mine is already in the barrel), which will allow the creation of remotely controlled firing positions that will be able to track and activate the necessary clouds around the clock and all year round. Aviation is simply not physically able to constantly be in the air, waiting for the arrival of the necessary cloud. And it does not differ with particular accuracy.
Regular shooting of aquifers will allow in advance, preventively filling reservoirs with drinking water of the highest quality, starting from the winter period (including in non-flying weather) and leaving in the summer even with a small excess of water, without waiting for its critical decline (as now) ...