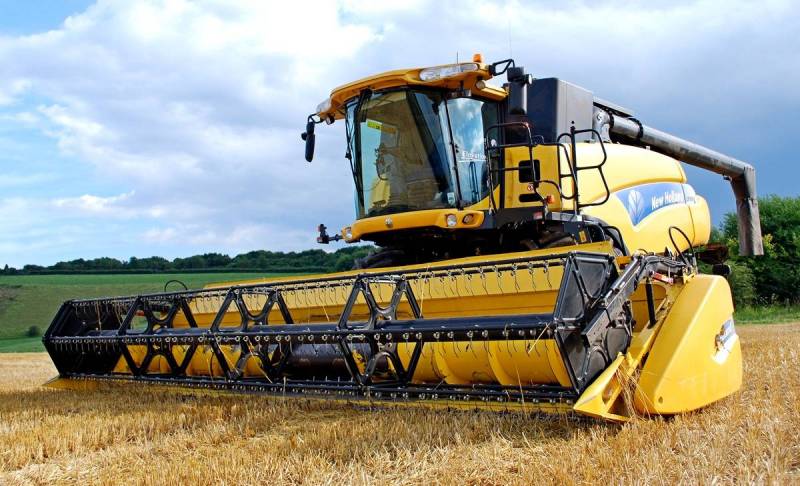 In the very near future, the Kremlin may have a new "weapon". These will not be "Putin's missiles" or even gas and oil, but grain. In any case, this is the opinion of analysts of the specialized American publication The National Interest, who expect that by 2028 Russia will occupy a fifth of the global grain market.
Indeed, our country has achieved a lot in recent years in the development of its agricultural sector. They even managed to surpass the Soviet record in grain harvest through investment and expansion of arable land. It is reported that the government intends to return an additional 15-20 million hectares into circulation. In addition, a noticeable climate warming will soon make it possible to introduce 4,3 million square kilometers of Siberian lands into agricultural circulation. The structure of crops has changed due to an increase in the volume of growing winter crops, which yield an average yield of 2-2,5 times more than spring crops. New varieties of wheat, adapted to our climatic conditions, are actively used.
Russia is already the world's largest grain exporter. This year, it is planned to sell its surplus abroad in the amount of 35-36 million tons. Today the share of our country is about 18% of the global market. The National Interest believes that the figure of 20% will be reached by 2028, but in reality this bar can be conquered even earlier and be much more significant.
It is curious how this is presented in the Western press.
Russia has already shown that it will not be a reliable source of grain supplies the next time it faces a pandemic or weather disasters
- American journalists write.
Indeed, against the backdrop of a pandemic and abnormal weather, Moscow this year limited the export of grain abroad. This was done to protect the interests of its own consumers. Note that many countries have introduced quotas for food exports. However, it was Russia that was blamed for this. Where did the Kremlin cross the road to the West this time?
If you look at the geography of supplies, it is impressive. Among the importers of Russian grain are Turkey, Egypt, the United Arab Emirates, Iran, Israel, Vietnam, Bangladesh, Angola, the Philippines, Nigeria, Sudan, Togo, Kenya, Tanzania, South Africa, Nigeria. Of the European countries, one can only note Italy, which buys durum wheat. The EU countries, the USA, Canada, Australia and Argentina do not buy our grain, as they themselves are exporters. So in what way did the popular American publication see the "threat" from the Kremlin, which allegedly will be able to use grain as a "food weapon" by introducing quotas on its export?
If we remove the propaganda "husk", then it is obvious that we are talking about a banal commercial struggle for the sales market. The share of Russia in it is growing rapidly, which cannot but cause fears among competitors, both in the West and among its closest neighbors. In recent years, the possibility of creating a so-called "grain OPEC", which will take into account the interests of relatively small players, has been actively discussed. In support of such an undertaking, among others, the President of Kazakhstan Kassym-Zhomart Tokayev spoke out:
Russia and Kazakhstan are among the top ten world exporters of wheat, our share in world wheat exports is 3%. As you know, OPEC decisions are aimed at curbing production volumes in order to achieve favorable oil prices. The creation of a "grain OPEC" may prove to be an interesting initiative aimed at ensuring the stability of the grain market and coordinating the price
policy
for grain.
Most likely, they will try in every way to introduce our country into a certain framework of a cartel agreement. It should also be noted that in order to increase the volume of grain exports, Russia will have to solve problems with transport logistics, which has significant restrictions, as well as with dependence on imported plant protection products and seed fund, which we will discuss in detail
told
earlier.
If our country unlocks the full potential of its agricultural sector, food exports in the future will be able to begin to compensate for the shortfall in revenues of the oil and gas industry. Last March, a ton of grain cost more than a ton of Urals oil.