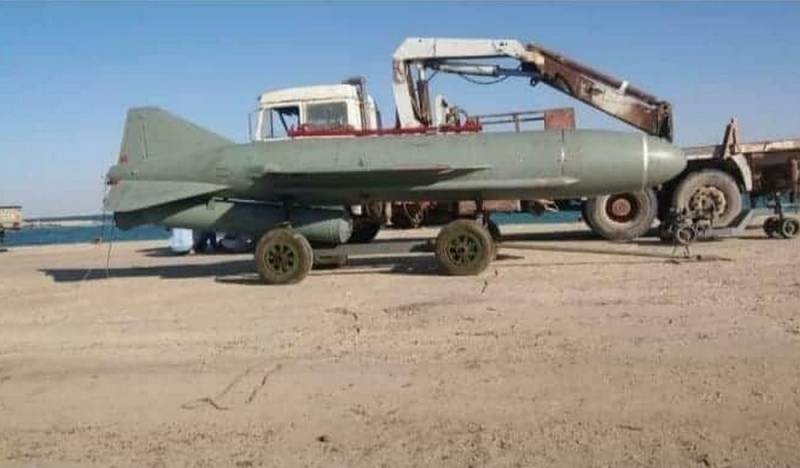 For the first time, LNA units tested the P-15 Termite anti-ship missiles 75 km east of Tobruk. The maximum range of the Termites is 80 km, the flight speed is 320 m / s. Representatives of the army of Khalifa Haftar said that these were shooting exercises, but with the destruction of targets at sea - this can serve as a clear warning to Ankara that, if necessary, the P-15 can be used against Turkish frigates.
P-15 "Termit" - liquid-propellant cruise missile, was adopted in the USSR in 1960. It was used in a number of military conflicts of the last century, including: the Indo-Pakistani War of 1971, the Yom Kippur War of 1973, the Iran-Iraq War of the 1980s and others.
Meanwhile, in early June, there was a naval incident off the coast of Libya involving Turkish warships. Ships of the Turkish Navy aimed their guns and strike systems at the frigate of the French naval forces URO Courbet. The Turks delivered a new batch of their weapons to Libya, which is prohibited by the current embargo. The French decided to check their NATO colleagues, suspecting them of smuggling - in response to this, the Turkish military activated their combat systems. This incident was later considered at a meeting of the heads of the military departments of the Alliance countries.
On Saturday, July 18, Cairo announced that Egypt opposes any interference by Turkey in the affairs of Arab countries, be it the territories of Iraq, Syria or Libya. According to the text of the statement of the Egyptian Foreign Ministry, such actions by Ankara not only lack a legal basis, but also violate the UN Security Council resolutions. This was reported by RIA "
News
».