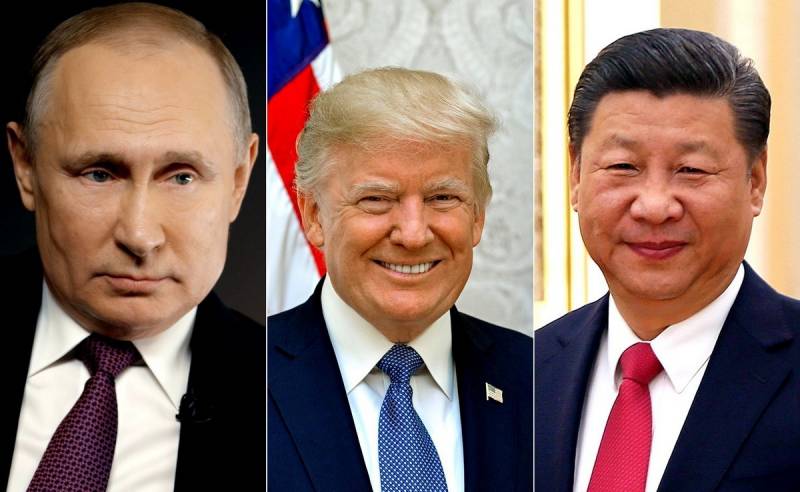 Looking from the outside at what is now happening in the United States of America, when 12% of the black population was brought to their knees (literally and figuratively) 88% of the rest of the population of this country, forcing them to lick, in the literal sense of the word, their shoes and to apologize for what they did not do, you ask yourself an involuntary question, but what, it turns out, was it possible?
Watching the dark-skinned crowd pour paint, and then demolish the monuments to the founding fathers of this state, while under the rubble die a couple of gape African Americans (excuse me, let's say politically correct - would-be vandals), how the pavements poke around, picking out cobblestones from them (a tool ) to fight the police, you catch yourself thinking that I've already seen something like this somewhere.
Similarly, in Ukraine, 6 years ago, and the cobblestones against the police, as well as chains, fittings and Molotov cocktails, and the victims of the Maidan during the demolition of the Lenin monument in Kharkov, and a crowd of hamsters with noble faces with placards "Freedom to African Americans!" sorry - "Yanukovych's gang - get out!" How it ended, you know - the "panda" of Yanukovych was kicked out, now they are at war with the "panda" of Putin. But we, looking at this rampant democracy, understood that it is possible only in countries where there is a US embassy (and all color revolutions, as if by magic, swept across the countries of North Africa, Yugoslavia, Georgia and Ukraine, is confirmation of this) , but we could not allow such a thing in the very stronghold of democracy (a city on a hill, as the previous president of America put it), even in a bad dream. After all, there is no US embassy there, who will pay for this banquet? But there were people like that who, in their narrow selfish interests, are ready to destroy even their own country. And we will be happy to see it! Come on guys, more fire! "Panda Trump - Get Out!".
Magical 12%
In this whole situation, I am occupied by the number 12. African Americans, it turns out, are only 12% of the total US population. I will not now cite the crime figures for these unfortunate 12%, although they are 60 times higher than the crimes of 88% of the white population, moreover, African Americans most often kill blacks for some reason. It's hard for me to understand their logic, maybe they kill each other, freeing up a place for themselves in the sun, purely gangster squabbles, maybe for some other reason, I don't know. In this whole story, I am only interested in the number 12. After all, there are only 12% of gay people on the planet. Imagine, only 12%! How did they manage to bend the whole planet, that we still apologize to them, that we are not gay ?! And we pull each other up, they say, we must respect the freedom of choice of everyone. And I respected this freedom of choice, even pointed out to critics that the representatives of this choice have some kind of special mental organization, delicate and vulnerable, but it contributes to their implementation in the field of culture, fashion and art. Respected until the representatives of this choice, delicate and vulnerable, put cancer (in the literal sense of the word) my whole country (to my grief, I live in Ukraine, I write with a small letter, because there is more such a country for me doesn't exist after what they did to her). And having united with another minority of Ukrainian Nazis and nationalists, they made up the very 25% of the nuclear electorate of Petit Poroshenko, who now hold the government and the Office of the half-educated clown in fear.
But back to America. It is possible to understand who is knocking whom there, only by pushing off the date of November 3, 2020, when the new 46th President of America is to ascend the throne. And whether the 45th president will remain for them or the 46th will appear and it is decided just these days. A little more than 3 months are left before the elections and the seemingly unshakable advantage of Donald Ibrahimovic over his competitor after the quarantine announced by him and all subsequent events (widespread unemployment that covered America as a result, the murder of another African American in Minneapolis, and caused by this murder by mass riots ) melted right before our eyes. And now the ever-young 77-year-old Democratic presidential contender Joe Biden, who does not even remember his wife's name, is ahead of the slightly younger 74-year-old Donald Trump by 10%, according to the latest poll. But whether it is worth believing these percentages or not was clearly shown by the previous presidential campaign, when Clinton won in all polls (and won, collecting more votes in her support), and as a result, Trump ascended the throne, winning the race in the key states that give a larger number of electors (in the States, the president is elected not by the people, but by the electors from the states).
And the Democrats no longer intend to repeat their previous mistakes. And if in order to win the elections it is necessary to destroy America, then it will be destroyed. The classic tactics of the color revolution works, where the term "colored" should be understood literally, in the truest sense of the word. African Americans have already taken up arms. But in America, where there has been a cult of weapons since its inception, not only they have weapons. How it ends, let's see, it won't be long to wait. Take your seats on the ground, it will be interesting. It is always interesting to watch when someone else's, not yours, is being destroyed. Until now, the Americans have always been in this position, having successfully destroyed more than a dozen countries over the past 70 years, now history will go on a wheel over them. To a reasonable question: "Why was it possible?", Neocons opponents of the isolationist Trump answer: "It is possible, when it is very necessary for a good cause!" Who will win as a result, it is not so important for us, it is important for us who will benefit from this? We will now try to answer this question.
From a historical perspective, it is at stake who will dominate in the next 30-50 years, after the United States of America leaves the position of King of the Hill. And the fact that the States is leaving is already clear. There are only two applicants - Russia and China. And don't be confused by the fact that now, it seems, they are allies. As old Winston Churchill said:
В
policy
there are no permanent friends or enemies. There are only permanent interests in politics!
Until the last moment, the interests of the Russian Federation and the PRC coincided, but since November 3, 2020, they have already diverged on the American map. And if Moscow bet on Trump, although Biden is not fatal for it, then for Beijing Trump with its trade wars is death. Therefore, one does not need to have a rich imagination to assume that it is Beijing that may be behind all these incomprehensible events in the United States, starting with the coronavirus, which mows down Americans like a Maxim machine gun, and ending with the uprising of African Americans, who, after 500 years, suddenly remembered white old grudges to slave owners. The question is, why have you been silent all these years? And what exactly now ?! Didn't the police kill African Americans before? Yes in bulk!
In the United States, a meeting with the police is fraught with death much more often than meeting a burglar. One awkward movement and you are a corpse! However, for some reason it was the corpse of 46-year-old George Floyd that became the trigger that lifted America to the brink of civil war. Do you still attribute this to the intrigues of the vile old Soros, who is already being absent in the cemetery, and who has to think about his soul, and not to conceive a civil war in the States? Don't you think that Senka's hat is not for this? With all the demonization of his image and the seeming greatness, no old man, even Soros, is clearly beyond his powers to do this. There is clearly someone behind him. Are you sure that the Democrats-globalists and the neocon Republicans who have joined them, who stand behind him, are independent in their actions and choice of means? But I'm not sure. Don't put the cart in front of the horse! I'm not at all surprised when, 50 years later, the fact that the horse was Chinese comes up. Do you still naively believe that it is the American tail wagging the American dog?
Chinese footprint
Now I will try to prove the opposite to you. You probably know without me that in America the world is not ruled by the president (and the sad experience of the 45th president proved this), and not even by two competing parties changing each other on the ruling Olympus, but by transnational corporations and the US Federal Reserve System under their control. ... And when 4 years ago, coming to power, Trump declared the main task facing him, he did not hide that the first thing he would start with, he would try to return production to the United States, which would revive the dying Rusty Belt (the industrial states of the USA and Rednecks, inhabiting it), will create additional jobs and increase the taxable base (and, accordingly, the income of taxes to the budget). And to solve this main task, he will have to: first, stop the expansion of Chinese goods into the US markets, and secondly, suppress
technological
China's leadership and thirdly, to block transnational corporations in China by forcing them to pay to the US budget. And that's why Trump unleashed all trade wars around the world, and, taking advantage of the COVID-19 pandemic, closed national borders.
Naturally, the Chinese could not like this. And these are not Germans who calve for a long time, defending their national interests, which Trump is attacking, blocking the laying of the SP-2, announcing a 1001 "Chinese" warning to him, hinting that this is interference in their internal affairs, and they do not will be patient. Suffer and not that. But China, as soon as Canada, at the request of the United States, arrested the daughter of the founder and CFO of Huawei, they immediately took into custody two unlucky Canadians, who, to their misfortune, found themselves at that moment in the Celestial Empire. And what do you think? A miracle happened - the detained daughter of the owner of Huawei was immediately released on bail, however, this did not save Huawei with its 5G technology from American sanctions.
As a result, in addition to the United States, Australia and New Zealand have already abandoned Huawei's fifth-generation (5G) network deployment services. And in Canada, an investigation is currently underway to determine whether the products of the Chinese brand pose a real threat. To which Huawei founder and CEO Ren Zhenfei stated:
"If the lights go out in the west, the east will still shine. And if the north plunges into darkness, there is still the south. America is not the whole world, but only a part of it. We believe in the UK and hope the UK will trust us even more. We plan to invest even more in Britain if the US stops trusting us. "
Indeed, many UK companies, including Vodafone, EE and Three, have long and fruitful partnerships with Huawei on 5G.
But the music did not play for long ... Naive Ren Zhenfey. Further, I quote from Interfax, which refers to Sky News:
Moscow. the 14 th of July. British Prime Minister Boris Johnson and his cabinet ministers have decided to ban the Chinese company Huawei until 2027 from participating in the deployment of UK 5G networks after December 31, 2020.
Moreover, all equipment manufactured by the Shenzhen-based company that has already been installed should be removed from the 5G infrastructure by 2027. And Huawei has already invested billions and billions of dollars there.
What is poor Ren Zhenfey to do? Blame Trump, of course. Moreover, in addition to Huawei, four more Chinese technology giants - Dahua, ZTE, Hikvision and Hytera - have fallen under American sanctions. And this is not only the problem of Zhenfey, but also of Comrade. Si. What happened next, we all saw - the murder of an African-American repeat offender, before whom they were killed in dozens, turned out to be a provocation planned by someone (do not know who?). A correspondent of a central newspaper "accidentally" happened to be next to the African American, and as a result, Trump started having problems at his home. Do you think this is just a coincidence, an accident? I do not think so. It is only the Russians who harness for a long time, but they go fast. The Chinese quickly harness, and how fast they travel, we will find out on November 3, 2020.
PS The struggle for world hegemony has already begun in the near future. I bet on the RF. This means that Trump must win on November 3.