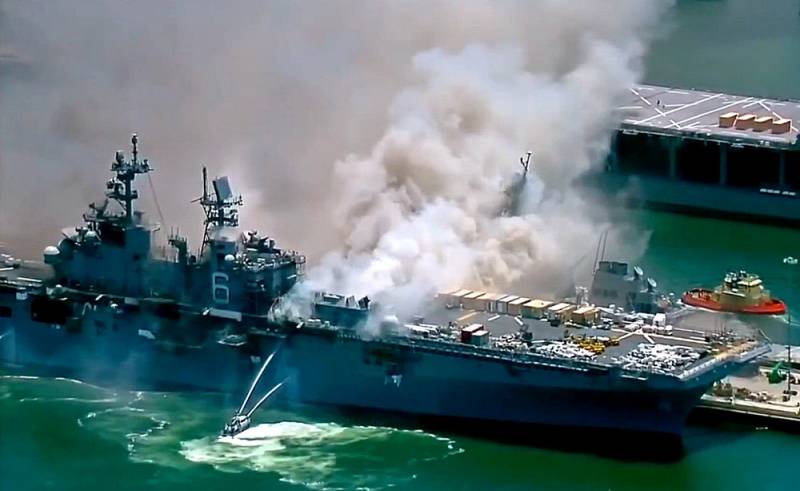 A multi-day fire aboard the USS Bonhomme Richard landing craft raises concerns about the US Navy's ability to repair its ships during the war, writes the American portal Business Insider.
The damage caused by the fire to the ship is still being calculated. But in the best case, the ship will have to be overhauled for several years before it can return to the sea.
According to Phil Ewing, editor of the National Security Division of National Public Radio, if the US military needs years in peacetime to return ships to service, it is unlikely that they will be able to repair ships damaged during the war with China or Russia before it ends.
Most likely, you can only count on those ships that will be at your disposal on the first day of the war. When they fail, you will not be able to quickly get new ones or repair damaged ones.
- says Ewing.
He recalled that during the Second World War, the United States had industrial potential, which made it possible to quickly make up for losses at sea. The United States could simultaneously wage a large-scale war in opposite parts of the planet. This is no longer possible.
Expert Peter Singer from the New America think tank in Washington clarified that the US Navy had already had a new one in stock when it was withdrawing from the fleet. But during the war against Russia and China, the United States will not be able to replace ships in such numbers or so quickly because
Technology
и
economy
have changed a lot over the past 75 years.
Retired US Navy Captain Jerry Hendrix drew attention to the fact that in the event of the aforementioned war, the ability to repair and build the fleet would be severely limited. There are very few shipyards in the United States that are adapted for such large ships as the USS Bonhomme Richard.