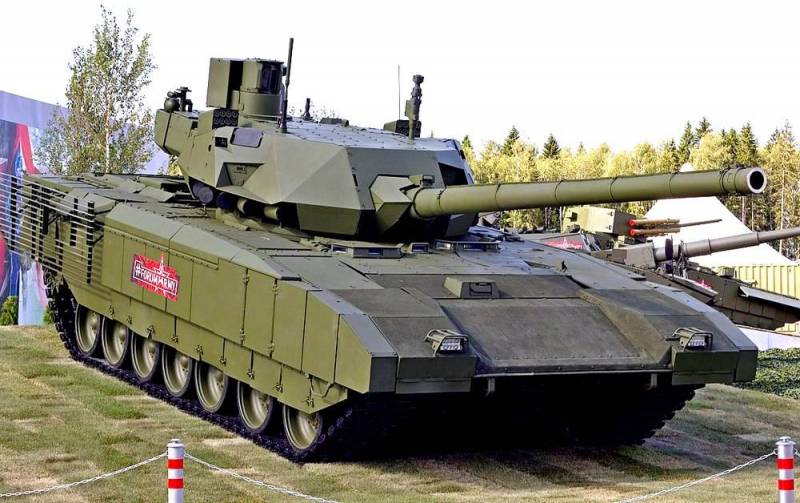 The Minister of Industry and Trade of Russia Denis Manturov announced in April that Russia plans to begin work with foreign customers of the T-2021 Armata tank in 14 and has already received several preliminary requests. However, Forbes experts doubt that there are many buyers for the Russian tank, which may be caused by its excessive "sophistication".
Since the tank was introduced to the general public in 2015, the Russian Federation has been touting the virtues of a next-generation combat vehicle. The T-14 is equipped with an active anti-tank missile defense system, sophisticated sensors and a data network, a high degree of automation, as well as a 125-mm gun located in an unmanned turret - the crew is in a relatively safe place inside a thick armored corps.
A number of military experts believe that Armata is superior in its combat qualities to Western models of the Cold War era: the American M-1 Abrams, the German Leopard-2 and the British Challenger-2.
The new Russian tank is a departure from traditional Russian tank designs
equipment
times of World War II or the Cold War, such as the T-34, T-55 and T-72, which emphasized the mass production of simple machinery. Instead, the T-14 is closer to the Western concept of fewer expensive, but high-tech armored tanks.
But the T-14 Armata is very expensive, and the Russian army cannot afford to purchase a large number of such tanks, the price of which is about $ 4 million per unit of equipment. Due to the high cost, the Russian budget cut the number of Armats acquired by 2025 from 2300 to 132.
What else, besides the high price, can scare away potential buyers from the T-14?
- Western analysts are wondering.
Traditional Russian weapons are quite easy to use (like a Kalashnikov assault rifle), but the new Armata is completely different. Given the sophistication of the tank, there will be few who wish to purchase it. Perhaps the UAE and Egypt will be able to do this - they have experience using American, European and Russian weapons. Algeria can also be a buyer, given that it already has sophisticated Russian military equipment - for example, the recently delivered Terminator anti-tank machine. Finally, India is a key area for high-tech weapons systems of the Russian Federation - such as the T-90
- Samuel Bendett, an expert on Russian armed forces at the Center for Naval Analysis of the USA, noted in an interview with Forbes.