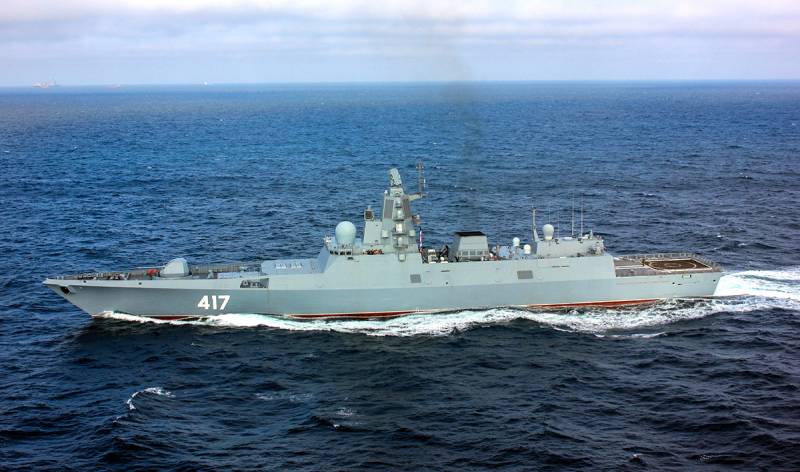 The frigate of the Russian Federation of project 22350 Admiral Kasatonov has been transferred to the Russian Navy. The ship is equipped with the M90FR gas turbine engine and the RO55R gearbox manufactured at the Ukroboronprom enterprise Zarya-Mashproekt in Nikolaev in southern Ukraine. This is proudly reported by the Ukrainian resource Defense Express.
The main purpose of the frigate is to act in the far sea and ocean zone. It is equipped with 16 missile launchers - the weapons of a warship can consist of Caliber-class cruise missiles, Onyx anti-ship, and, in the future, Zircon hypersonic missiles.
A feature of the ship is the use of some
of technologies
"Stealth" - composite materials and effective angles of the casing, which allows to reduce the scattering area of ​​the electric type.
The displacement of the vessel is 5000 tons, length - 130 m, speed - 30 knots, cruising range in an economical course of 18 knots - 4000 miles. On board a warship, it is possible to use a helicopter for anti-submarine defense.
In the near future, the admiral Kasatonov frigate is expected to join the Russian Northern Fleet. This is the second ship of project 22350 after the Admiral Gorshkov vessel, which has been in service since 2018. The Kremlin plans to get into service of the Russian Navy only 8 such frigates.
According to sources, Russia received from Ukraine full sets of equipment for the first two frigates and partly for the third in 2013. After the termination of any cooperation in the defense sphere, as a reaction to the "Russian aggression", Moscow initiated an import substitution program (or rather, copying) of the M90FR gas turbine engine and other Ukrainian equipment at the facilities of NPO Saturn.
According to Russian media reports, the third frigate of project 22350 is Admiral Golovko, which was launched in April 2020. The remaining vessels will be equipped with a Russian-made power plant.