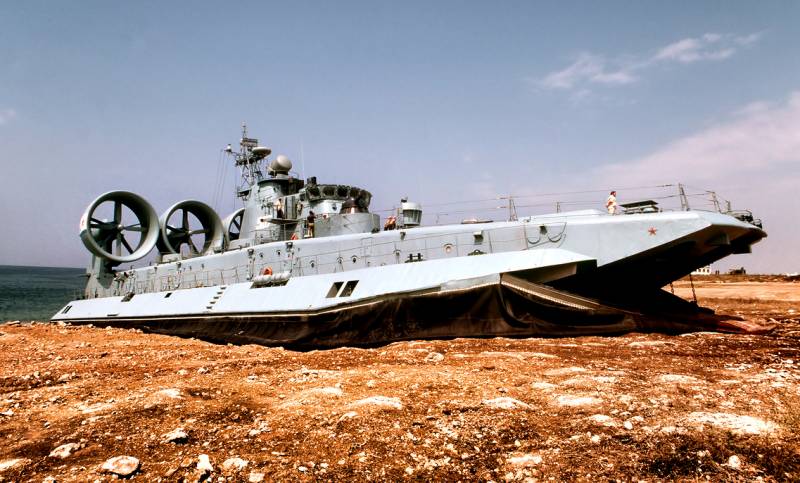 The Zubr small hovercraft (project 12332) created in the USSR to this day has no analogues in the world and is the most powerful ship in its class.
The unique vessel has a displacement of more than 500 tons, a length of about 60 meters and is capable of taking on board: 3 tanks or 10 armored personnel carriers, or 500 fully equipped paratroopers. Let's add here the ability to move both by water and by land over distances of about 300 nautical miles, while developing a speed of over 100 km / h. As a result, we get a formidable combat vehicle capable of discouraging any enemy.
However, high carrying capacity and all-terrain are not the only feature of the Russian warship. The body of the Zubr is made of a strong, but at the same time very light and corrosion-resistant alloy of magnesium and aluminum, which allows extremely economical use of engine power.
As for the latter, 12332 GTE 5 gas turbine units were installed on the project 8000 ship: two for injecting air into the cushion lifting system, and the remaining 3 for rotating 2,5-meter propellers. Four 100-kilowatt GTG 100 turbine generators were responsible for the power supply of the ship.
The unique Flora-32 system made the landing craft easily controllable even at a speed of 55 knots and in difficult weather conditions. At the same time, it was possible to control the Zubr from the captain's bridge, deck, and even remotely, through a system of remote control panels.
As the main striking force of the ship, two MLRS A-22 "Fire" installations were used, each of which has 22 barrels with a caliber of 140 mm and ammunition of 66 shells of various types. In addition, the Zubr could take on board up to 80 mines of different classes and act as a highly effective minelayer. The ship's air defense was provided by two 30-mm six-barreled guns AK-630M and four Igla MANPADS.
All living quarters of the ship were heated, air-conditioned and sheathed with special noise-absorbing materials with high vibration resistance.
Unfortunately, before the collapse of the USSR, only seven ships of Project 12332 were produced. Four Zubrs became part of the Baltic Fleet, and three more - into the Black Sea Fleet. Later, in 1992, four more vessels were laid in Petersburg.
In 2011, the Russian Navy decided to abandon and no longer buy hovercraft. It was planned to replace them with vessels of a dynamic and non-dynamic type of keeping afloat.
However, today the question of reviving the Bison is increasingly being raised. And who knows, maybe soon the updated unique ship will again take up combat duty.