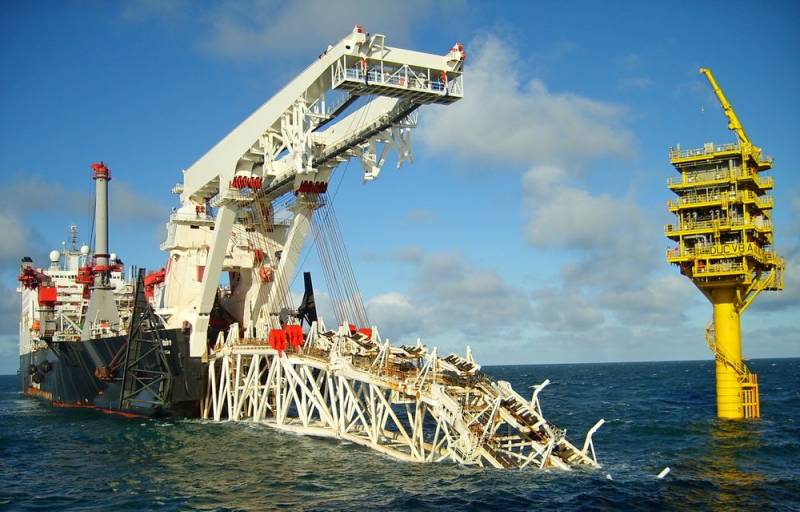 Washington continues to unceremoniously hinder the implementation of the Nord Stream 2 gas transmission project. July 15, 2020, the head of the US State Department, Mike Pompeo openly threatened to retroactively impose sanctions against Shell, Engie, Uniper, Wintershall and OMV, which are investors in the project.
Pompeo said that Washington intends to extend the law "On Countering US Enemies Through Sanctions" (CAATSA) to SP-2 and part of the Turkish Stream gas pipeline going to the Balkans. If Washington's demand is not met, then the Americans promise to block the assets of these companies in the United States.
This means: stop working immediately or risk unpleasant consequences.
- said Pompeo.
It should be noted that new formidable statements followed from Washington at a time when Gazprom stepped up efforts to complete the pipeline. At the same time, the companies mentioned above have already invested € 4,75 billion in the project.
Each investor company has already invested € 950 million in the project. Thus, they have made their investments and simply can't fulfill Pompeo's requirement to "stop work immediately", as this is equivalent to giving money to Gazprom. Moreover, the total project cost is estimated at € 9,5 billion. The remaining investments are Gazprom's own funds.
The US has no methods of pressure on Nord Stream-2, so Mike Pompeo had to hurryly withdraw the reservation from the use of article 232 of CAATSA
- explained to the publication
Kommersant
Managing Partner of the Moscow office of Pen & Paper Anton Imennov.
He clarified that Pompeo did not voice new sanctions, but "well-forgotten old ones" that had not previously been applied to SP-2 and Turkish Stream. He recalled that under US restrictions, companies that participate in Russian gas projects for $ 1 million at a time or $ 5 million per year fall under US restrictions.
As the publication learned, investing companies were perplexed by information from the United States. The eventual imposition of sanctions in hindsight is what they call an unprecedented move. They do not understand what exactly Washington is seeking from them. Theoretically, they can officially announce the exit from the project and require Gazprom to return the money. But Gazprom, in any case, will retain the opportunity to complete the construction of SP-2.