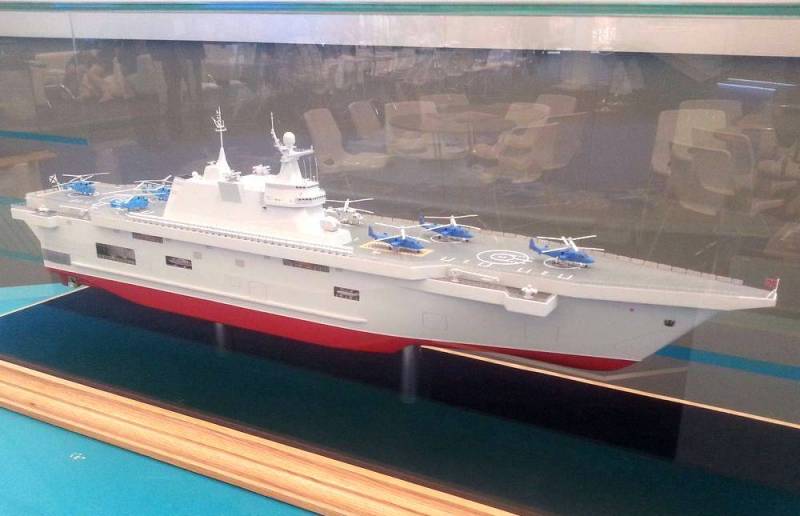 July 16, 2020, at the Zaliv plant in Kerch (Crimea), the laying of the first universal landing helicopter carrier project 23900 "Surf" is due to take place, writes the Ukrainian information and consulting company Defense Express.
DE notes that a ship with a maximum displacement of 25 thousand tons should receive the name "Sevastopol". It is intended for the Black Sea Fleet of the Russian Federation. In total, it is planned to build two such ships for the needs of the Navy. The history of this project is closely connected with the French UDK type Mistral, with a displacement of almost 22 thousand tons.
After the French refused to cooperate in 2015, the Russians finalized the project. It is known that Russian ships will be slightly larger than French, but their exact characteristics are not disclosed. The construction of two units by 2027 and their commissioning is estimated at $ 1,4 billion.
It is specified that the Zaliv factory has not built such ships before. He specialized in the creation of patrol ships and tankers. It was there that the only ice-class Sevmorput nuclear-powered lighter carrier was created.
According to DE, the Surf ships may be stuck in a puddle. That is, in the opinion of the Ukrainian publication, the Soviet admirals called the Black Sea - they say, ships of such a displacement there simply has nothing to do. Therefore, they passed the Bosphorus only once - when they went from the slipway to the place of permanent service.
Russia plans to use the future Sevastopol not only in the Black Sea, for which it is really big, but also in the Mediterranean Sea. There, he must, together with the Moscow missile cruiser, perform various tasks. At the same time, Ankara, given the conflict of interest, could harm Moscow's plans. According to the Montreux Convention, there is a restriction on the passage of ships through the Black Sea Straits, "which are intended primarily for the transport and use of decked aircraft at sea".
The USSR Black Sea Fleet had two anti-submarine helicopter carriers, based in the Black Sea. However, Turkey then agreed with the position of the USSR that these are just anti-submarine ships with the possibility of placing aircraft and therefore they can pass through the straits. However, now Ankara can change its point of view.