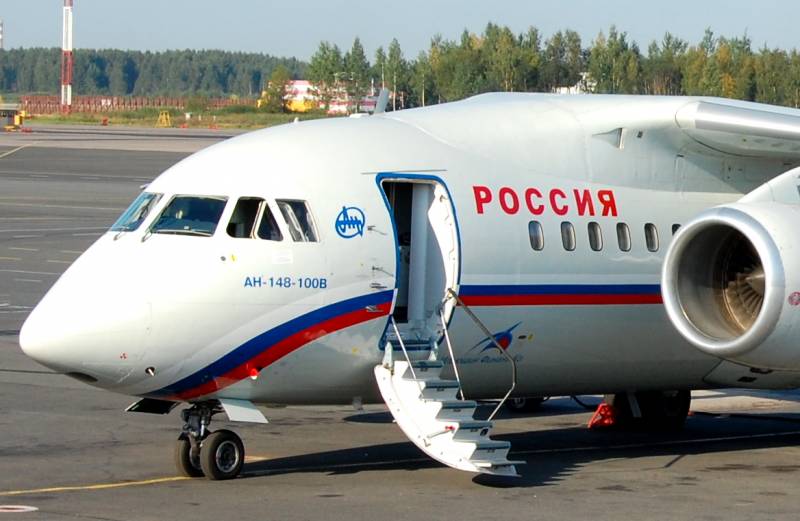 After several failures with the An-140 and An-148 aircraft manufactured at an aviation enterprise in Ukrainian Kharkov, Vladimir Putin decided to support the aircraft factory. Otherwise, his future would be very disappointing. This was stated by the head of the board of the regional public organization for the promotion of development of aviation and astronautics "Start", the former chief director of the Yuzhmash industrial group in Moscow, Vyacheslav Smolenko.
The first customers of the An-148 were the Russian border troops, the Ministry of Emergency Situations, as well as the FSB. Thus, the budget of the Russian Federation actually saved the plane
- the expert noted in an interview with the Ukrainian edition of the Voice of Truth.
According to him, Putin gave instructions to find money and help Antonov get on its feet with this plane.
However, the magnanimous actions of the Russian president did not ultimately help the Kharkiv airline. After 2014, when Kiev broke production ties with Moscow, these aircraft were no longer manufactured, and the Ukrainian aircraft industry as a whole was in decline.
GP Antonov is now in the midst of a protracted crisis, and from 2016 to 2018, the aircraft factory did not produce a single serial aircraft. In November last year, the property of Antonov Corporation was transferred to the management of the State Property Fund of Ukraine.
On June 23, 2020, at the request of the Moscow Arbitration Court, the Antonov concern was expelled from the ranks of UAC-Antonov LLC. This was reported by the publication "Prime". The reason for this court decision is the refusal of the Ukrainian side to take part in the joint venture.