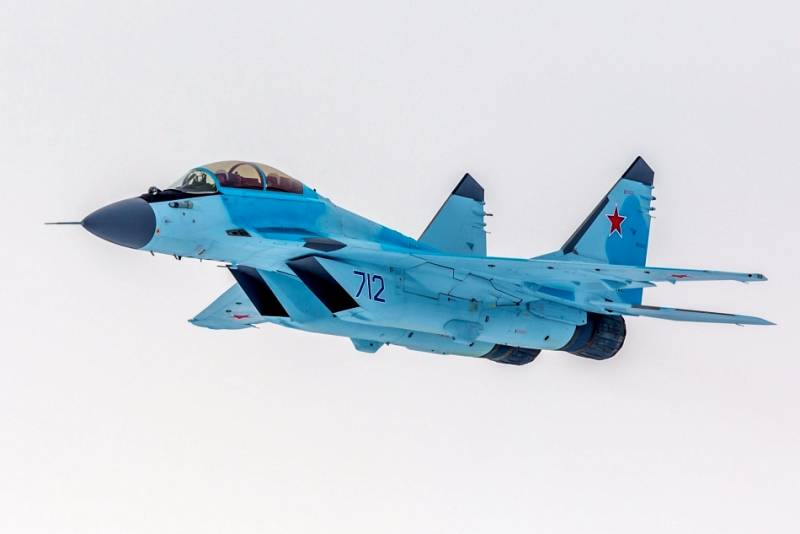 The deployment by Russia of multi-functional fighters of the 4 ++ generation MiG-35 in Syria would make sense, according to the American publication Military Watch.
In 2019, the MiG-35 were adopted. In many ways, these are the most advanced fighter aircraft of the Russian Aerospace Forces, which boast a wide range of advanced
of technologies
Starting from artificial intelligence and AFAR, and ending with engines with a variable thrust vector.
Since the fall of 2015, Russia has been carrying out an air campaign in Syria, supporting official Damascus. The Syrian theater of operations has already managed to visit many samples of Russian aircraft: Su-27SM3, Su-30, Su-24M, Su-25SM, Su-34, Su-35, MiG-29SMT, as well as MiG-29K and Su-33 Russian Navy. In addition, in 2018, Moscow announced that it had deployed a group of fifth-generation Su-57 fighters in Syria.
It turns out that the MiG-35 is the only combat aircraft that has not passed through the crucible of a real war. Therefore, there is a high probability that he will soon appear in Syria, because this machine surpasses the American-made F-16s in service with Turkey and Israel in their characteristics. The MiG-35 is unpretentious, can land on the ground and is available at a relatively low price. It is easy to maintain and low maintenance.
There is confidence that the MiG-35 will appear in countries that operate the MiG-29. Some of them are already showing interest in the latest aircraft, and the participation of military vehicles in the Syrian war would be a good advertisement for the new MiG. For example, in August 2019, at the MAKS-2019 air show, a contract was signed to purchase the Egyptian Air Force 50 MiG-35 units for $ 2 billion, which the United States did not like.
As for Syria, the country's air force recently received a batch of upgraded MiG-29s from Russia. The Syrian Air Force has been very worn out over the 8 years of the war, so in the coming years they will be completely updated and the MiG-35 is ideal for this, since it does not require significant infrastructure costs and personnel training.