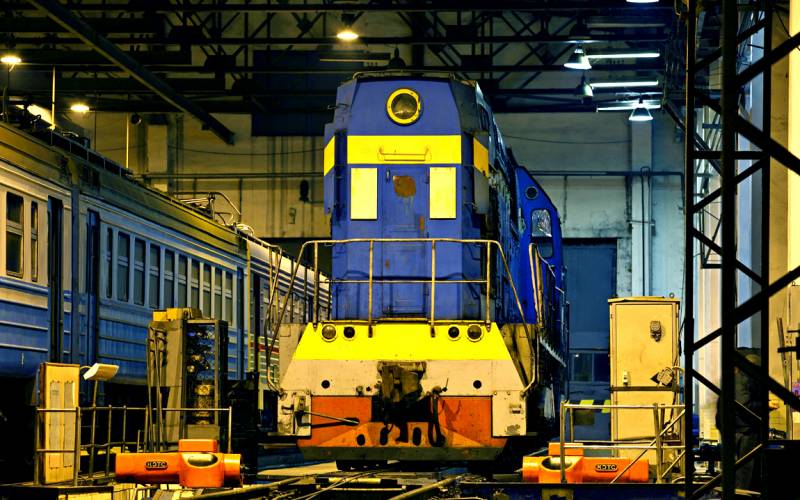 Six years ago was signed
economic
part of the association agreement between Ukraine and the EU. Ordinary Ukrainians were then promised a "bright future": an influx of foreign investment, the opportunity to freely slide into a Vienna opera to have a coffee, "farewell to unwashed Russia," the European standard of living, and other "lace panties." The reality turned out to be slightly different.
Adequate experts and analysts warned in advance that the "association" is essentially the "economic colonization" of Ukraine, which voluntarily opens its domestic market to European goods. The industrial potential of the Square was already undermined by a quarter century of "effective management" in its Ukrainian variation. It is worth quoting one of the advisers to former Prime Minister Arseniy Yatsenyuk Alexander Kirsh:
Built in Soviet times, industrial enterprises and "flagships of industry" are the Russian noose around Ukraine's neck. They need to be liquidated and sold out in order to get out of Moscow's influence ... The huge and low-paid labor force at these dying enterprises is holding Ukraine back in its European movement.
You don't even want to laugh here, it reminds too much of the words of our own "fighter against the communist legacy" Anatoly Borisovich Chubais, who was ready to sell state-owned enterprises for a penny and, in fact, did just that, having bred oligarchs from us. Vivid examples of how the need for de-industrialization of the once economically developed countries of the post-Soviet space is packaged in different ways.
During the period of independence from Russia, the Ukrainian "effective managers" destroyed industry and infrastructure, sold them to the last ship of the Black Sea Shipping Company, which we will discuss in detail
told
earlier. After the Maidan in 2014, Kiev went on to finish off its enterprises, breaking production chains with our country. Now, under pressure from the IMF, on whose trenches Nezalezhnaya depends, a law has been passed that makes it possible to put into circulation the last national treasure of Ukraine - its unique black soil.
At the same time, even attempts to restore something are suppressed. The team of President Zelensky outlined a program to localize foreign production in his country. We are talking about the so-called "screwdriver assembly", which in itself is difficult to call a panacea. Assembly conveyors primarily serve foreign enterprises where key components and assemblies are produced. But this at least created new jobs and increased the influx of taxes into the local budget. It was assumed that in Ukraine from 15% to 30% of components for foreign engineering products will be produced.
This initiative caused a sharp shout from the "senior comrades." EU Ambassador to Kiev Matti Maasikas called the bill "a substantial violation of the principles of equal treatment and non-discrimination." The European Union considered Zelensky's actions a violation of WTO rules and the association agreement with the EU. Brussels also did not like the amendments to the Ukrainian law on public procurement, according to which European manufacturers could not participate in them due to restrictions on the degree of localization of 60%. It is simply impossible to refuse obsessive recommendations, since then Kiev will be deprived of vital financial tranches.
The bottom line is that in 2014 Ukraine opened its domestic market for Western products, and it lost its own free will of Russia. Nezalezhnaya cannot actually get to Europe with her goods, since they are simply not competitive there, and the customer, represented by the state at the public auction, has the right to refuse to purchase them if more than half of the cost of their production is of foreign origin. This means the actual elimination of Ukrainian industry in the very near future.