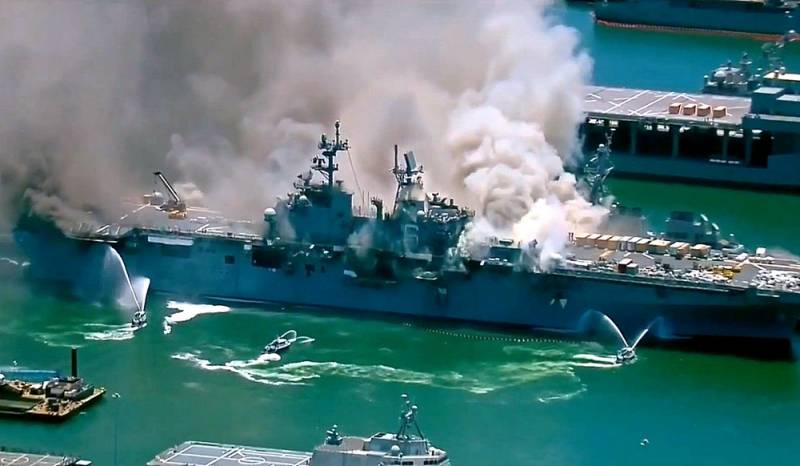 Fires on American warships are becoming an important issue in the country's naval forces. However, instead of developing a concrete plan to combat this scourge, officials nod at similar examples in other countries. The inaction of US military authorities can have far-reaching negative consequences. About it writes Forbes magazine.
Sunday due to non-compliance
equipment
security there was a major fire on the pier, almost destroying the aircraft carrier landing ship "Bonom Richard." As a result of the incident, the United States Navy could lose a ship worth a billion dollars. During the fire, there were 160 sailors on board, 18 of whom were hospitalized - nothing threatens their lives. The fire bent the steel structures of the ship and melted the tires of the transport on the deck. Repairing Bonn Richard may take several years.
Shipyard fires are becoming the real scourge of the U.S. Navy. But those in charge continue to ignore and hush up the problem.
Fire will occur until either a ship sinks with the crew, or naval commanders learn to prevent such cases.
- say experts of the American publication.
Fires actually drown the US Navy at the pier, Forbes writes. So, in 2012, the Miami strike submarine burned down. In 2019, 11 sailors were affected by the fire on the small landing ship Iwo Jima, in November 2018 the fire severely damaged the Oscars Austin, and in April of this year, the destroyer Delbert Black under construction. In 2011, ammunition was ignited on the destroyer "Spruance".
Only solid leadership and iron discipline can put an end to such incidents. If the command does not take the necessary measures, Congress will have to influence the situation. In general, according to Forbes, America has enough problems to think about how not to sink its own fleet at home.