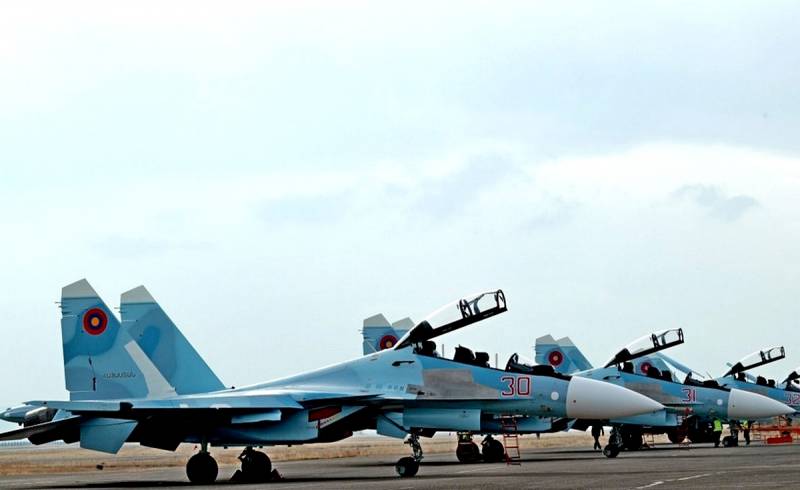 On the eve of the cannon talk again on the border of Azerbaijan and Armenia, there are killed on both sides. All these are echoes of the old war for Nagorno-Karabakh. Apparently, having lost then, Baku is again ready to take revenge. It remains only to understand why this is happening right now?
The Foreign Minister of Azerbaijan on this occasion stated the following:
The conversation is that 20% of the territory of Azerbaijan is occupied. What do you think, a ten millionth, rich, developed infrastructure, armed country will allow to occupy its territory for an infinite amount of time? This is impossible.
As you know, Baku and Yerevan have their own hot spot - Nagorno-Karabakh, the territory of Azerbaijan, inhabited mainly by ethnic Armenians. This conflict has a long and complex history, and in 1992-1994 it led to a bloody war between the two former Soviet republics. Armenia won in it, but Azerbaijan never reconciled with the loss of a fifth of its territory, insisting on restoring the integrity of the state. An involuntary arbiter in this conflict is Russia, which is interested in cooperation with both countries and the absence of war close to its borders.
Several decades have passed since then, periodically exacerbations and clashes with the victims. Both Baku and Yerevan are preparing for a possible resumption of war. With Russian help as an ally in the Collective Security Treaty Organization, Armenia strengthened its defense capability due to the Iskander-E OCR, the Smerch MLRS and Su-30SM fighters.
Azerbaijan, in turn, held large-scale military exercises in the spring, in which more than 10 military personnel, 120 armored vehicles and 30 aviation were involved. Baku also established cooperation with Ankara, with which it has full understanding on the "Karabakh issue." I would like to dwell on the latter in more detail.
Azerbaijan and Turkey have an agreement that for any military activity in Nagorno-Karabakh, Baku will immediately notify its ally. In the future, based on it, plans were developed for joint actions to "restore territorial integrity." While Russia is a stabilizing factor in the frozen old conflict, Turkey is a destabilizing one. The outbreak of a full-scale war puts the Kremlin in an extremely sensitive situation. An attempt to "force peace" of Azerbaijan will lead to a breakdown in normal relations with Baku. At the same time, Moscow cannot abandon Yerevan either. It turns out "geopolitical pitchfork."
It seems that "friend Recep" gave the go-ahead to defrost the Karabakh conflict in order to put pressure on "partner Vladimir," who began to show increased activity not only in Syria, but also in Libya. This may be a well-founded assumption in response to the question of why the exacerbation began right now, when everyone is full of problems.
In any case, you need to understand: Armenia is a member of the CSTO, which means an attack on this country will mean a conflict with the whole bloc, including the nuclear power - Russia. Although, ultimately, the amount of assistance that Moscow will provide to Yerevan in a hypothetical war will depend on the quantity and quality of assistance to Baku from Ankara. If the Turks, on the basis of an official request from their Azerbaijani allies, venture to send their army units to Karabakh, the Kremlin is unlikely to limit itself to arms supplies and military advisers. In Armenia, military aviation of the Russian Aerospace Forces will immediately appear, as well as long-range air defense systems.
Thus, in addition to Syria and Libya, another point of tension between Russia and Turkey will be created, which will inevitably lead to a deterioration in relations. In the meantime, Moscow and Ankara remain a good face in a bad game - Vladimir Putin and Recep Erdogan are smiling and shaking hands, despite the insoluble contradictions in the Middle East.