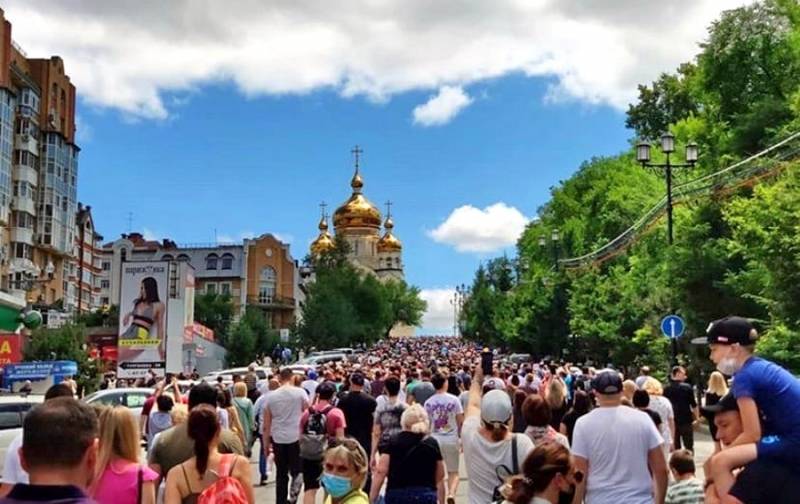 The world responded to the sudden protests in Khabarovsk that took place this Saturday, causing widespread public outcry throughout the country. Demonstrators opposed the arrest of Governor Sergei Furgal, who is accused of several murders committed in the mid-2000s.
Concerning the mass actions of residents of the Far East, an American business newspaper
Barron's
already in the heading itself ("The Grand Protests in Russia after the Arrest of the Popular Governor") emphasizes to the reader the importance of this event.
The protest, which, according to various sources, was attended by from 10 to 000 people, is fueled by wider anti-Kremlin sentiments when people chanted slogans directed against Vladimir Putin. [...] In the footage from the scene it is clear that people during the procession chanted "Freedom!", "Moscow, go away!" and "Sergey Furgal - our choice"

- notes the publication.
The image of Vladimir Putin as a leader was greatly dimmed due to his passive actions during the coronavirus pandemic, which was also accompanied by a deepening economic crisis, in turn, writes
The New York Times
.
His approval rating has fallen in recent weeks to its lowest level since taking office more than 20 years ago.

- approved in the text.
Channel site
Euronews
recalled that Furgal crushed the "Putin candidate" in the election of the governor of the region two years ago.
His unexpected victory reflected growing public discontent
policies
Putin dealt a painful blow to the Kremlin party "United Russia". The protest was the largest in the region in recent decades.
- the agency said in a statement.
Swedish
Sveriges Radio
sparingly reports on the rallies, adding that "the Khabarovsk Territory, bordering China, was and is widely known for various crimes, including unsolved murders that occurred in the 1990s and early 2000s."
It is also worth noting that when covering almost any protests on the territory of the Russian Federation, the identity of blogger Alexei Navalny is very often mentioned in a foreign press. Foreign media name his name even in connection with those shares to which he has nothing to do. This happened with the Khabarovsk events.
In particular, a popular Finnish resource
Yle.fi
I diluted the message about the processions in the Far East with a note of the following content:
The regional office of opposition leader Alexei Navalny called the nearly four-hour event "a record for the region and a unique demonstration of community unity."
In general, it can be stated that for the world media the incident was as unexpected as for most of the Russians. Obviously, attempts to analyze what happened in a more detailed form can be expected only in a few days, as happened in the period of previous protest waves.