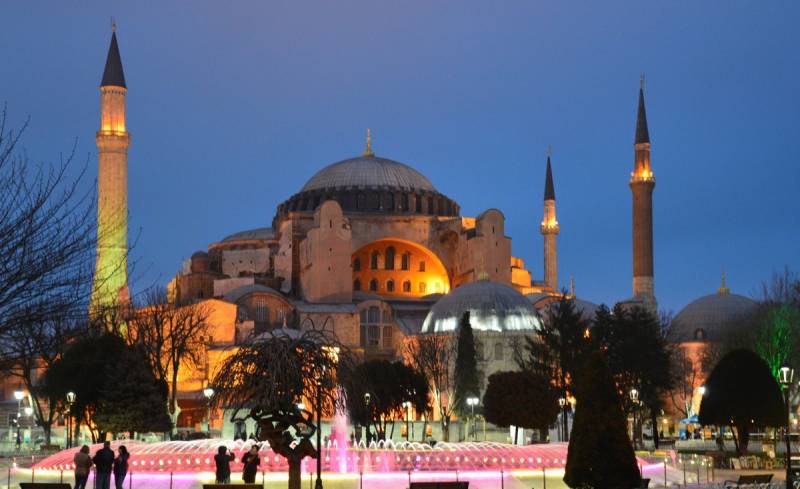 In distant Istanbul, a momentous event is currently taking place. With the filing of President Erdogan, Hagia Sophia turns into a mosque. The Christian world, that is Catholic, that is Orthodox, reacts to this event rather sluggishly, limiting itself, so to speak, to "concern". But completely in vain. We are witnessing the "zeroing" of Turkey, which will have far-reaching consequences.
Hagia Sophia is one of the symbols of Christian culture and architecture. After the capture of Byzantium by the Ottomans, the temple was turned into a mosque for many centuries, but in 1935 it received the status of a museum and was included in the UNESCO World Heritage List. Now, the former cathedral, which managed to visit the museum, again became a Muslim mosque. Why can this event be considered significant?
Formally, this is a decision of a sovereign state, so the civil authorities of other countries prefer to remain silent, giving the word only to religious hierarchs. So, Patriarch Kirill said the following about this:
The threat of Hagia Sophia is a threat to the whole of Christian civilization, and therefore to our spirituality and history. To this day, for every Russian Orthodox person, Hagia Sophia is a great Christian shrine.
In neighboring Greece, they offer to answer Ankara asymmetrically, turning the home of Kemal Ataturk, located in Thessaloniki, into a museum of genocide. The liberal public is waiting for what President Trump and European leaders will say in this regard. So what exactly is the whole fuss about?
In practice, turning a museum into an existing mosque means that instead of visiting a popular attraction, tourists will encounter crowds of praying Muslims. Particularly arrogant of them may require the closure of Christian frescoes and mosaics on the walls, which may offend the feelings of believers of the Christian faith. This precedent may prompt religious extremists to seize other Christian shrines. Despite this, President Erdogan deliberately takes such an ambiguous step. And for that he has very good reasons.
Right before our eyes, there is a "nullification" of Turkey and an attempt to revive the Ottoman Empire. If Ataturk built the Republic of Turkey as a secular progressive state, then Recep Erdogan deliberately plays on the neo-Ottoman sentiments of the Turks, relying on the consistent Islamization of the country. Ankara has long been positioning itself as the leader of the Turkic world. Now, with the "rebranding" of Hagia Sophia, she begins to pretend to become a center for the unification of Muslims. Tired of knocking on Europe, Turkey begins to gather Asia around itself.
Moreover, the "Sultan" Erdogan is very serious. What he did in recent years: in fact, annexed part of its northern provinces from Syria, sent troops to Libya, where he intends to open his military bases to dominate the Eastern Mediterranean. If the Turks succeed in gaining a foothold in Libya, the next step could be to rock the situation in Egypt. Having established a loyal regime in Cairo, Ankara can spread its appetites to neighboring oil-rich Arab countries. In Turkey, they remember that not so long ago all these North African and Middle Eastern countries were part of the Ottoman Empire.
And then, intoxicated by success, the Turks may recall that both Southeast Europe and Crimea were also their possessions. If you let this "beast" feed itself, in the future you can rake in big problems. Yes, the status of Hagia Sophia is an internal affair of Turkey. But in the future, ignoring her actions may hurt everyone.