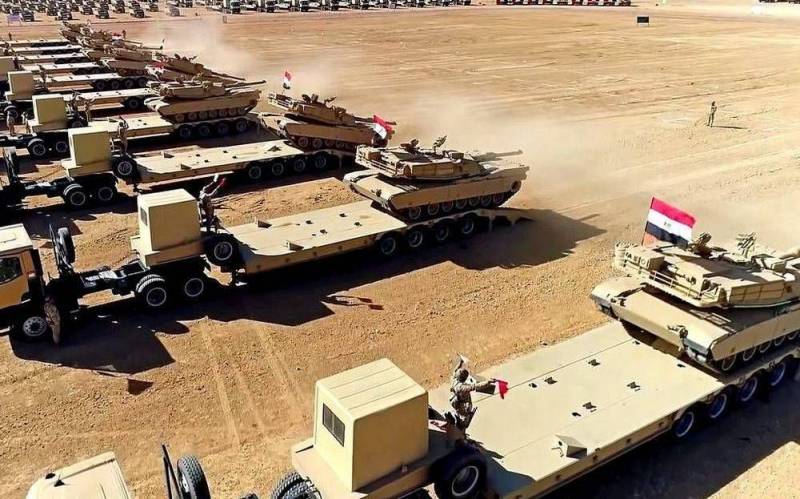 Cairo began major military maneuvers near the Libyan border under the name "Hasm 2020", writes the British edition of The Arab Weekly.
The media notes that Turkey's intervention in the conflict in Libya was extremely negatively received in Cairo. Libya is very important for the national security of Egypt, which has a common border of 1200 km with this country. The Egyptians simply cannot allow the Islamists from Tripoli to take control of all of Libya, since after that destabilization of Egypt itself will begin. To prevent this, Cairo built a network of military bases along its western border and pulled troops there.
The teachings that have begun mean that Cairo can indeed come into conflict. Now the Egyptian army is demonstrating to the Government of National Accord of Libya and Ankara that it is ready to stand on the side of the Libyan National Army Field Marshal Khalifa Haftar if the "red line" is crossed. The head of the Egyptian military department, Lieutenant General Mohammed Zaki, has been on the western border of the country for a month now, moving between objects and inspecting troops, checking their combat readiness.
On July 8, 2020, Egyptian Foreign Minister Sameh Shukri spoke at the UN Security Council. He said that the situation in Libya poses a serious threat not only to his country, but to the entire region. At the same time, the former head of the Center for Strategic Studies (Cairo), Major General Alaa Ezzedin, confirmed to the publication that Egypt is ready for war.
We remind you that the "red line" the Egyptians call the conditional line from the port city of Sirte to the base "Al-Jufra" in the center of Libya, dividing this country into two parts. If the PNS and its allies try to cross it, the Egyptian army has promised to cross the border.