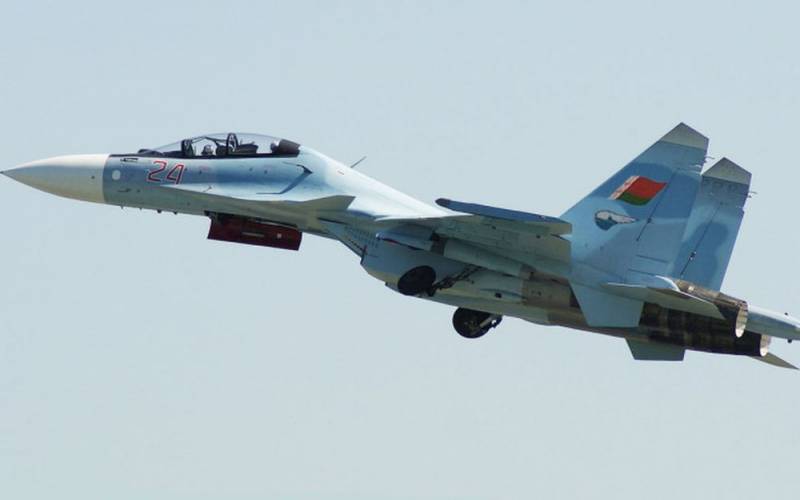 July 1, 2020 in Baranavichy at the 61st fighter airbase of the Belarussian Air Force and Air Defense Forces, a solemn ceremony of interception on combat duty of Su-30SM fighters was held. Russia has armed its main ally with elite fighters, writes the Chinese edition of Sina.
Su-30SM (serial upgraded) is an excellent latest model of the line of Russian twin-seat twin-engine heavy multi-purpose fighters Su-30 generation 4+, designed to gain air supremacy. At the same time, the Su-30, of which more than 600 pieces have already been produced, is a deeply improved version of the reliable Soviet Su-27. Their development, due to the collapse of the USSR, was suspended in the 90s.
Prior to this, Su-30MKK model fighters manufactured at the Komsomolsk-on-Amur Aviation Plant named after Yu.A. Gagarin, delivered to China. At the same time, Su-30MKI fighter jets made by Irkut Corporation were exported by Russians to India.
However, the Su-30SM is a more technologically advanced aircraft. He made his first flight in September 2012. This is the most modern fighter adopted in service in Russia.
After the Turkish Su-2015 bomber was shot down over Syria in 24, it was the Su-30SM fighters who were tasked with air cover. These vehicles have excellent maneuverability and are superior to the American F-16, F-15 C / D Eagle and the European Eurofighter Typhoon.
Now these beautiful fighters have appeared in Belarus. This country did not and does not seek NATO membership. For several decades, Minsk has proven its loyalty to Moscow. Therefore, the sale by Russia of 12 of these Belarus fighters means that military-technical cooperation and relations between countries have reached a qualitatively new level.