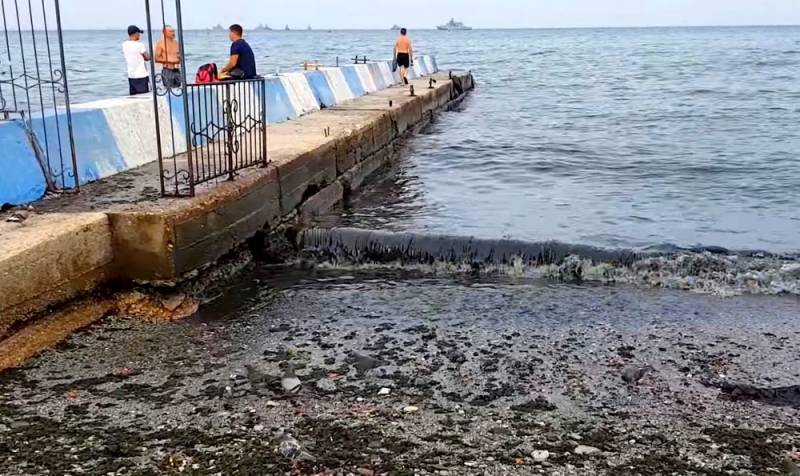 COVID-19 and abnormal heat played a cruel joke on Russian Black Sea resorts. Because of the coronavirus pandemic, the overseas vacations of many of our compatriots were covered with a copper basin, and they rushed on vacation to their native coast. There, to their surprise, they found, instead of the sea, something very bad looking and smelling.
Russian resorts on the Black and Azov Seas today, to put it mildly, "smell". Most of all, in this regard, unfortunately, "distinguished" Crimea. Sea water in Yevpatoriya and Yalta reached a temperature of about 28 degrees, a little cooler than air. Guilty of this abnormal heat, which still overtook Russia, about which we
told
a few days earlier. It would seem, as warm as fresh milk, the sea - what could be better?
Alas, this undoubted advantage of the resort has turned into its huge disadvantage due to systemic problems with sewage on the peninsula, and it has two components.
At first
, in Crimea, built a huge number of private houses that do not have a centralized drainage system. As a result, private entrepreneurs, pumping out the contents of cesspools, dump it anywhere: rivers, forest belts, quarries, fields. Developers also make unauthorized "taps" into the sewer system, as well as illegal drains of waste products into rivers. According to ecologists, the small rivers on the southern slopes of the Crimean mountains are a source of constant biological pollution, and this water ultimately ends up in the sea.
Secondly
, sewage problems exist even in large cities. Vladimir Bazhenov, General Director of the State Unitary Enterprise RK "Water of Crimea", explains:
If the length of the conduit on the peninsula is 6440 kilometers, then the sewer network is only 1822 kilometers.
In Balaclava, sewage is discharged into the sea without any treatment at all. In the hero city of Sevastopol, at the southern sewage treatment plant, only mechanical water treatment is in progress. It is estimated that 100% of the sewage treatment facilities of the peninsula need repair. According to Bazhenov, in Crimea, it is necessary to build an additional fifty or more sewage discharge points. Also, all 12 deep-sea sewer outlets are in emergency condition and need major repairs, 11 of which dump waste into the Black Sea, and the last into the Azov Sea.
Because of this state, the sea near Russian resorts turns into a kind of "Petri dish". The problem is sharply aggravated with the advent of heat. The rapid growth of algae is a clear evidence of the unfavorable state of water due to its nutrient pollution. Now vacationers are actively complaining about the appearance of the Black Sea and Azov beaches littered with rotting algae. The smell is such that the mayor of Saki had to reassure the troubled public:
I explain, there is no accident at the chemical plant! If only because our factory has not been working for 30 years. Chlorine did not explode, ammonia did not spill, dust was not sprinkled, nobody was poisoned with arsenic.
Unfortunately, not only rotting algae float in the water. Here is a quote from one of the portals of the city of Alushta:
You have not swam in excrement? Alushta is waiting for you. It happens almost every day. By dinner, "something" of brown color floats on all the beaches of Alushta, a mass of bubbles with debris and a huge number of dead insects.
We will make a reservation that the problem with sewage in the Crimea did not arise today. She was in Ukraine. They tried to solve it with a return to their "home harbor", but everything tripped over our corrupt realities. For example, in an unknown direction, the advance payment in the amount of 2,056 billion rubles allocated for the construction of the new Yuzhny sewage treatment system in Sevastopol has disappeared. Vitaly Nakhlupin, deputy governor of Sergei Aksyonov, was also arrested due to problems with the implementation of the federal target program. Here is how Yalta journalist Sergey Sardyko commented on this situation:
People win tenders by offering very small contract prices that are really impossible to do. We keep records of how many companies in Yalta that grab an advance and run away with it, go bankrupt, and that's all - there is no money.
In general, this whole thing "smells bad."