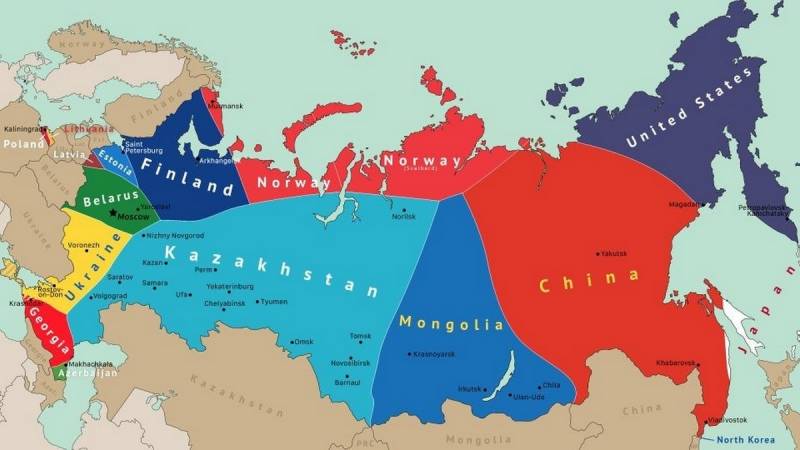 The Latvian deputy Alexander Kirshteins from the National Bloc presented to the Internet users' court a "map" of Russia after its collapse - it shows which territories of the Russian Federation will go to which countries. Thus, Kirshteins decided to start a discussion about the upcoming collapse and division of the Russian Federation.
The deputy of the Latvian Sejm on his Twitter published the coveted map of the "eastern neighbor" section - this creation of a certain German "geographer" provoked a stormy reaction from users of the social network, including users from Russia.
Someone will agree and become the United Baltic Republics of the Russian Federation
- the reader warned under the nickname Hirdman.
The separation of Russia, at least its European part, Siberia, the Caucasus and the Far East may occur already in this century
- says Eriks Lingeberzins.
Unrealizable fantasies of the evil Baltic dwarf. Dry yourself. The only thing you can safely share is the ears of a dead donkey
- wrote Alexander Kopteev.
While someone is dreaming of the collapse of Russia, the United States is slowly but surely moving towards a civil war. Texas will be followed by other states
- recalled Arthur Stepchenko.
Hello, hello. I am Russian. Please tell me, what is Latvia? This is not the piece of land that Russia bought from Sweden? Ah, yes, then it turned out that the Pygmies live there and Russia, with some fright, created a country there. Well, as I've created, it'll "create"
- hinted at Quantum Password.
According to Kirshteins, peace in Europe will reign only after the collapse of Russia into many small areas on an ethnic basis. Earlier, an odious politician called for the deprivation of citizenship of those Russians who speak in Latvia for giving the Russian language the right of a second state language, and also protects Russian-language schools. Being a hater of everything Russian, he rejoiced at the death of the director Mark Zakharov and advocated the construction of a monument to the Germans who occupied Riga in 1941.