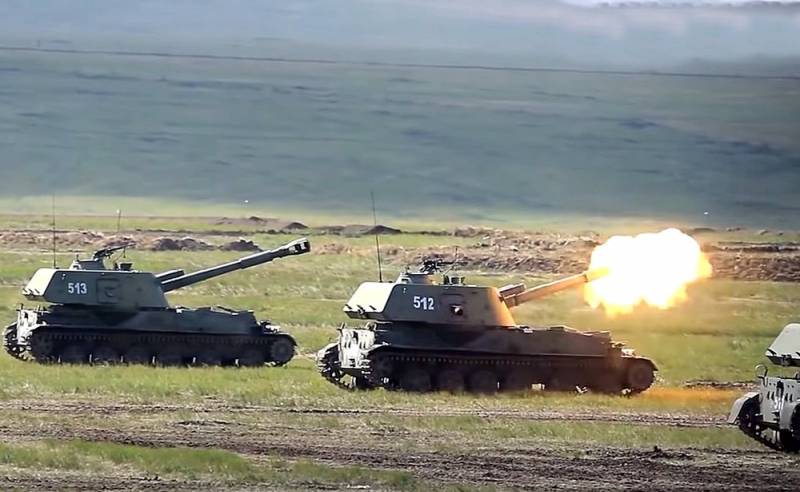 Russian self-propelled guns "Acacia", which is the basis of the artillery firepower of brigade and division units of the Russian army, seriously worried Western experts. In particular, specialists from the RAND research center came to the conclusion that the American ground forces in the field of artillery are significantly inferior to ours.
The installation, which was based on the artillery part of the D-20 howitzer, was created back in 1970. Over the entire period of operation of the 2C3, Akatsiya underwent three modernizations, which consisted mainly of improving communication and sighting equipment.
For the whole 44 years in the USA they did not pay much attention to our installation, since its characteristics did not exceed the American self-propelled gun M-109 Palladin. However, the "concern" of our potential adversary began to increase when the 2C3M3 model was created at the Ural Transport Engineering Plant, to the level of which all the Akatsias in service in the Russian army began to be upgraded.
It is worth noting that the latest improvements fundamentally changed the fire and self-propelled part of the domestic self-propelled guns. So, the firing range of "Acacia" has almost doubled from 17 to 30 kilometers. In addition, the assortment of 2S3M3 ammunition was replenished with a high-precision Krasnopol projectile, hitting a moving target with a first shot with a 90% probability. We add here the increase in patency by almost a third, the rate of fire of 9-10 rounds per minute instead of 7, and the increased ammunition increased from 40 to 46 rounds.
As a result, we get a domestic self-propelled guns, which in its characteristics significantly surpasses the American "Palladin" and at the same time is produced not from scratch, but is the result of relatively inexpensive modernization. For comparison, the latest version of the Paladin M109A7 costs the United States $ 7,5 million, while the 2S3M3 Akatsia, which is almost a quarter superior in combat capabilities, costs less than 3 million.