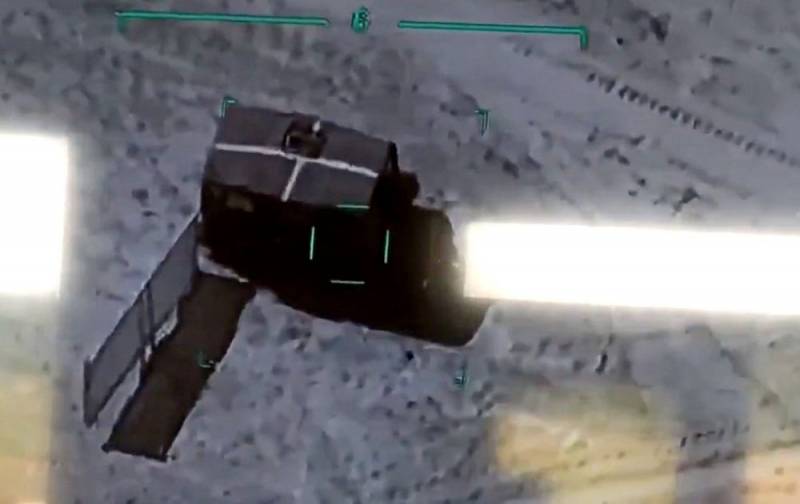 The Ukrainian military first showed the Turkish Bayraktar TV2 attack drone in action. The tests were held in early July 2020 near Rivne.
The video shows how Bayraktar TV2 first conducts reconnaissance, and then, finding the target (command post vehicle), uses the ammunition and destroys it. As an ammunition, a planning small-sized guided bomb with laser guidance MAM-L was used, its declared flight range is about 8 km, accuracy - up to 1 m, and weight - 22 kg.
We remind you that in March 2020, the Ministry of Defense of Ukraine reported that drones are a very promising type of weapon. At the same time, Kiev confirmed that it was ready to buy its products from Ankara in the future, since it had proved its effectiveness in combat conditions.
According to an earlier agreement, in March 2019, Baykar Makina delivered the first batch of Bayraktar TB2 to Ukraine. In October of that year, a second delivery was made. In total, 6 units of Bayraktar TB2 and 200 ammunition were delivered to Ukraine. At the same time, in September 2019, 50 Ukrainian military completed training in Turkey on the operation (management and maintenance) of medium-range drones.
It should be added that Bayraktar TB2 is capable of carrying these two bombs, its payload is 55 kg. The maximum take-off weight of the drone is 650 kg. It can rise to a height of 7300 m and remain in the air for up to 24 hours. The maximum drone speed is 250 km / h, and cruising - 130 km / h. However, it cannot be further than 150 km from the control point.