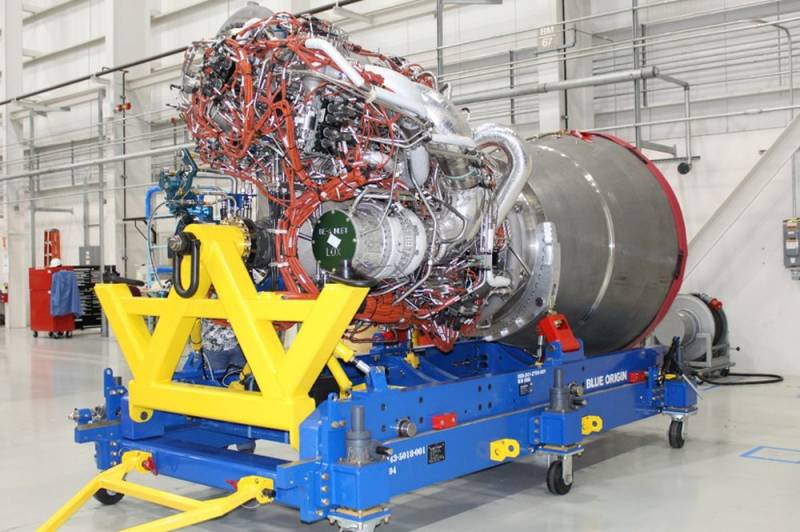 The United Launch Alliance, an American company, received the first BE-4 rocket engine from Blue Origin to replace the Russian RD-180 rocket engine. This was announced by ULA in its Twitter account. The novelty runs on a pair of methane + liquid oxygen.
At the same time, the American Blue Origin told the Space News portal that the manufactured engine will be used during testing together with a launch vehicle, without specifying which one. It was emphasized that the mentioned power plant is not serial. But the company promised that a second similar engine will be delivered by ULA by the end of July 2020.
We remind you that Russian RD-180 produced by JSC NPO Energomash named after Academician V.P. Glushko "(part of the state corporation" Roskosmos "), equipped with American launch vehicles of the Atlas family (currently AtlasV). These launch vehicles are used by Americans for critical launches into space in the interests of US national security. Since 1999, 116 units of the RD-180 were delivered from Russia to the United States.
However, to replace the Atlas launch vehicles, the Americans are already creating a new Vulcan launch vehicle, in which, presumably, the above BE-4s will be installed in the first stage.
Note that according to amendments to US law, departments and private companies in this country will have to abandon the use of the RD-180. At the same time, as the Americans themselves indicate, they will not be able to abandon Russian rocket engines until at least 2024.