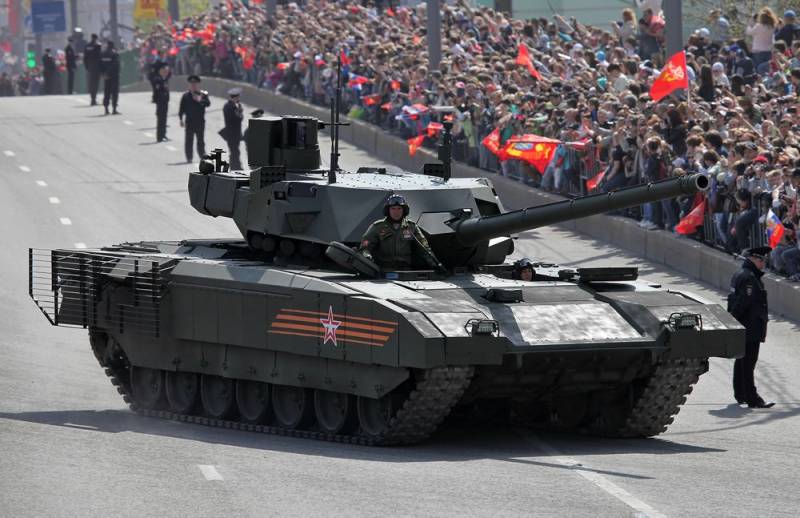 The promising Russian main battle tank T-14 (Object - 148) with an uninhabited tower based on the Armata universal tracked platform was tested in unmanned mode, i.e. his work was tested without a crew at all.
The tank underwent a similar test for the first time and as reported
RIA News"
source in the Russian military-industrial complex, the combat vehicle showed itself well during preliminary testing.
Experts also note that since the T-14 Armata went "without a pilot", it has serious prospects for further robotization. This will fundamentally change the conduct of a real battle, because the tank is needed for direct contact with the enemy and support the advancing motorized rifle units.
According to the former head of the main armored directorate of the Ministry of Defense, Alexander Shevchenko, the uniqueness of the unmanned T-14 "Armata" lies in its open digital architecture, which creates a "reinforced concrete" basis for the robotics of armored vehicles. Despite this, the T-14 Armata will remain as easy to control and even conscripts will be able to control it.
We remind you that in 2018 the Russian Ministry of Defense signed a contract with Uralvagonzavod on the purchase of 132 T-14 Armata and BMP T-15 tanks (Object 149) on the basis of Armata. The contract must be completed by the end of 2021. At the same time, the first T-14 Armata should enter the troops by 2020. The cost of one such tank in serial production is approximately 250 million rubles.
It should be added that today the T-14 Armata is the only fourth-generation tank in the world.