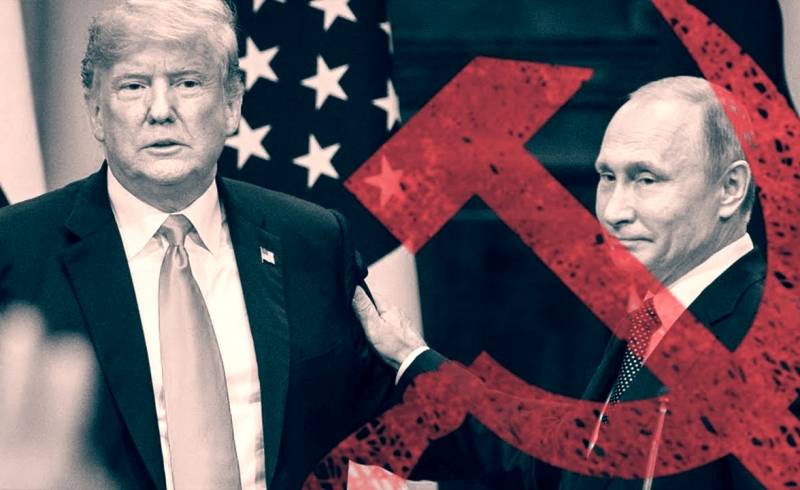 In the USA, a short Russian-language video with subtitles in English about "Comrade Trump" is gaining popularity. The video, which has already collected more than one million views, was prepared by the American committee of The Lincoln Project, The Hill writes.
It should be noted that The Lincoln Project committee was formed on December 17, 2019 by several prominent representatives of the Republican Party of the United States and former representatives of this political force. All of them are opposed to the re-election of the current US President Donald trump for a second term. In April 2020, the committee announced the approval of the candidacy of Joe Biden, the representative of the US Democratic Party, for the presidency.
The aforementioned video, titled "Travel Companion", demonstrates how Russian President Vladimir Putin "once again approves" Trump's candidacy. At the same time, it is specified that the Russian special services are working tirelessly, "overtime", working on the re-election of Trump. It is also unproven that Trump was already accepting help from the Kremlin in 2016.
The most important approval Donald Trump received in 2016 from our great leader Vladimir Putin
- said in a video of The Lincoln Project committee.
Our security services worked overtime to elect Comrade Trump
- explained in the video.
Comrade Trump's campaign has wisely accepted our help. <...> Congratulations, Comrade Trump, Russia thanks you for your loyalty and friendship!
- summarized in a provocative video.
The publication recalled that Russia has already been accused of interfering in the American elections and helping Trump. At the same time, Trump rejected all the accusations against him about possible ties with Moscow.