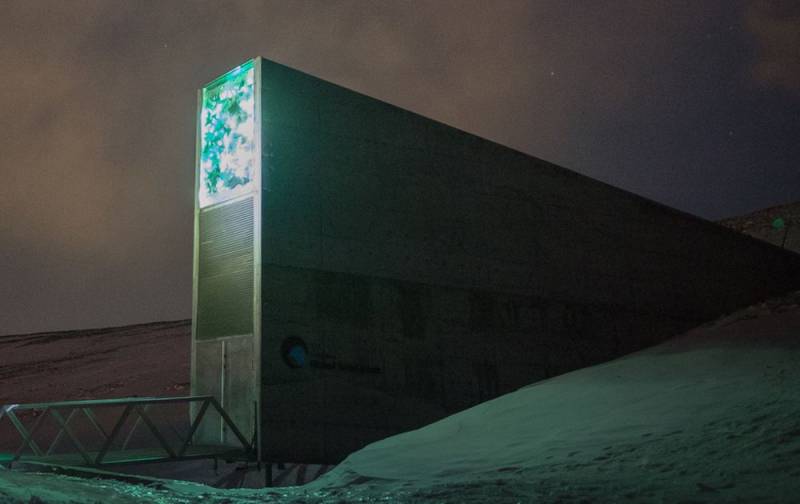 The world seed storage in Longyearbyen on Spitsbergen, called the Noah's Ark, was commissioned in 2008. Global Research claims that it has come under the control of proponents of declining Earth populations.
It should be noted that the construction of the facility took two years and cost the Norwegian government $ 9 million. The objective of the facility is to keep crop seed samples safe at a depth of 130 meters in the event of a planetary scale catastrophe (asteroid crash, nuclear war or global climate change).
There are three halls in the storage (while one is still in use) in which 4,5 million seed samples can be stored. As of February 2020, there were just over 1 million seed samples.
The ongoing costs of the project are financed by the Global Crop Diversity Trust (office in Bonn, Germany), created by the Food and Agriculture Organization of the United Nations and the intergovernmental organization CGIAR, operating through Bioversity International. In addition, the Nordic Genetic Resource Center is participating in the project.
The media drew attention to the sponsors of the project, whom the GCDT or Crop Trust referred to as the Donor Council. It is worth highlighting the most famous companies: Bayer Crop Science (includes Monsanto and DuPont Pioneer Hi-Bred) and Syngenta AG (owned by ChemChina). These are the largest manufacturers of GMO products and agricultural chemistry in the world.
In addition, the Crop Trust's Donor Council includes the Bill & Melinda Gates Foundation and the Rockefeller Foundation, which are also major sponsors of the CGIAR. According to a number of public organizations, the Rockefellers and Gates financed various programs to "reduce the world's population." In the 70s and 90s, mass vaccination in Nicaragua, Mexico and the Philippines against tetanus caused latent abortion in women.
In this regard, the media suspect that the aforementioned Council of Donors of the Crop Trust is going to manage humanity with the help of "controlled hunger". Since in the event of a cataclysm, it is they who will decide which country to allocate seeds for and which not. By the way, the UN Intergovernmental Panel on Climate Change (IPCC) predicts that a catastrophic climate change will occur on Earth in 2030, starvation will begin and humanity will not be able to prevent this.