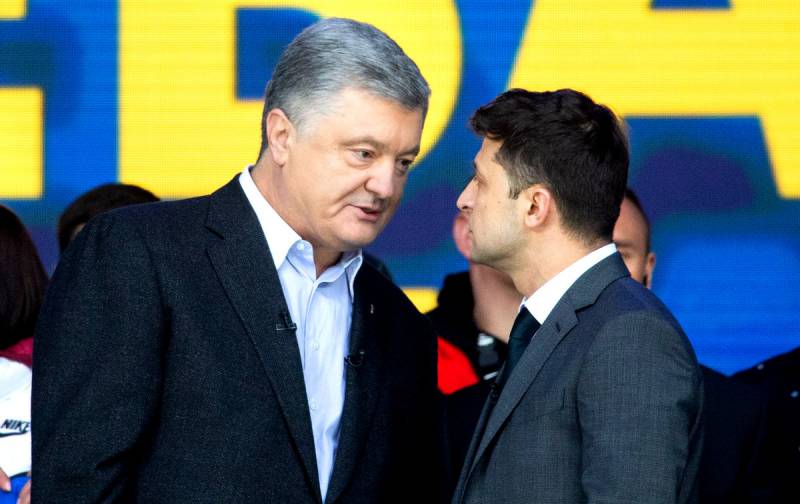 "Servant of the Ukrainian people" is increasingly turning into its predecessor. More recently, the sky-high ratings of Vladimir Zelensky are rapidly falling, while Petro Poroshenko, on the contrary, is even growing slightly. The former KVN officer is still far from a complete political collapse, but the trend is obvious.
There are a lot of reasons for such disappointment. The people of Ukraine voted for Poroshenko because he promised to end the war in the Donbass and lead their country to prosperity as part of the European Union. Petr Alekseevich did nothing of this, and only four years later the population was ready to vote for anyone, if only not for him. Candidate Zelensky seemed almost a fabulous character. A well-known and popular comedian, who also starred as president in the comedy series Servant of the People. It was a good move, and the Ukrainian people, fascinated by illusions, voted for it with a startling result. Alas, playing the President Independent and being him are two different things. Today, the confidence rating in Zelensky is minus 8,9%. What has this extraordinary and intelligent man done wrong?
In fact, the incumbent president repeats
policies
of its predecessor: the peacekeeping process in Ukraine is at a standstill, under the pressure of the IMF, an ambiguous law on the sale of land has been adopted, the country, instead of joining the European Union, is increasingly sinking into financial dependence on it. Ukrainians are becoming increasingly disillusioned with their "servant".
You can, of course, blame him that he, so-and-so, deceived everyone, but turned out to be like Poroshenko. The problem is that Zelensky's successor will also be Poroshenko's reincarnation. There is simply no question of any state sovereignty, the Independent is de facto controlled from abroad. Try a certain politician to change something from the inside, they will simply destroy him, and not literally, but figuratively. Hopes that the Ukrainians will "see clearly and free themselves" are completely unfounded. It will only get worse. It remains to be asked whether something can be done in such conditions?
Let's face it, the only external player who can do something for the good of Ukraine is Russia. And it's not about helping her with discounts on hydrocarbons or anything like that. Moscow had a window of opportunity from February to May 2014, when there was a legal president, Yanukovych, and permission to use the Russian army. It was possible to return Yanukovych to Kiev, and after cleaning up the nationalists, to carry out a constitutional reform to federalize / confederalize Ukraine and determine the status of Crimea. She was missed. Ok, let's go. What can be done for the fraternal people in 2020?
Today in faraway Libya, Egypt is ready to take advantage of the invitation from the Libyan Parliament to protect its national interests. Unlike the Government of National Accord, it is not recognized by the UN, but it has legitimacy, since the people of the east of Libya voted for it. If you project this scheme into Ukraine, then the situation is largely similar. In its East there are the DPR and LPR, which are considered to be Ukrainian territory by both Kiev and Moscow itself. If desired, alternative Ukrainian Parliament and Government "in exile" can be formed there, claiming to become new centers of power. It is clear that their legal status will be quite controversial, but winners, as you know, are not judged. The pro-Russian part of Donbass has its own armed forces and enjoys the support of Russia. If you do not recognize the results of the next presidential election in Ukraine, then another "window" of opportunities can open to deprive the Independent status of an anti-Russian outpost of the West.
For her own good, by the way. The return of Kiev to the sphere of Russian influence will stop the bloody civil war in the Donbass, and will also help curb gangs of nationalists and restore damaged industrial ties. This will give an impetus to the development of Ukrainian
economics
, will return the work to many people. No one, except Russia, is able to help a fraternal country under Western control. But of course, it's easier to thoughtfully lament over
the news
from Ukraine, reading how "Ukrainians themselves are ruining everything."