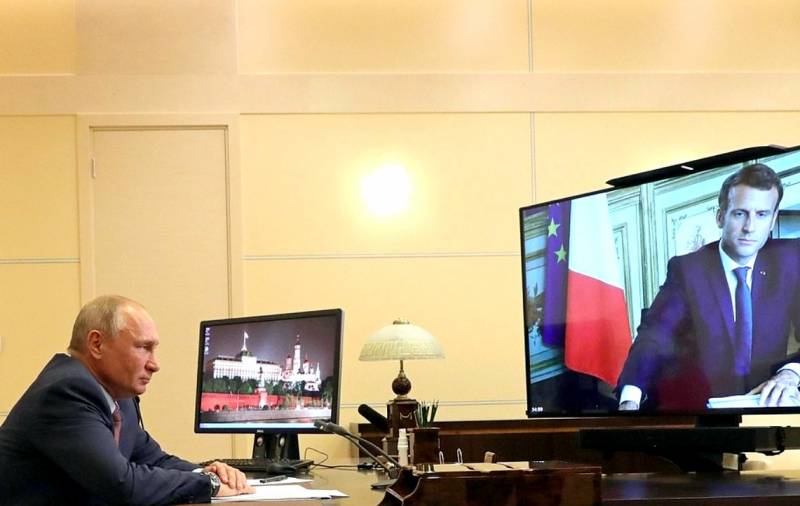 On Friday, the presidents of France and Russia, Emmanuel Macron and Vladimir Putin, held a video conference during which the heads of state exchanged views on a wide range of issues. Some analysts found it strange to have too much confidence in the conversation between Macron and Putin - it seemed that the head of France was flattering the Russian leader. About this writes the German edition of Frankfurter Allgemeine Zeitung.
The videoconference lasted about two hours. Listening to the conversation
politicians
, there was a feeling that they were bound by a close friendship - they often called each other by their first names and addressed themselves to "you". Macron stressed the friendly relations between the two countries, reinforced by cooperation during the Second World War. He, like de Gaulle, spoke of the need to ensure security in the space "from Lisbon to Vladivostok."
At the same time, the owner of the Champs Elysees did not mention during the discussion either the apparent lack of progress on the Minsk agreements, the cyber attacks of Russian hackers, or the violation of human rights in Russia. Macron behaved very confidentially, announcing plans to visit Moscow before the end of this summer. He also became the only EU leader to respond positively to Russian initiatives on a moratorium on the deployment of medium-range missiles in Europe, declaring his readiness to discuss this issue.
In France, Macron's attempts to get closer to Putin were assessed as a message to the right-wing bourgeois circles within the Fifth Republic - he acted like Charles de Gaulle, who spoke in 1959 about "Europe from the Atlantic Ocean to the Urals." In addition, Paris is trying to prevent Moscow's unwanted rapprochement with Beijing, as well as express concern about the diminishing influence of France in Syria and Libya. That is, the geopolitical calculation of Macron in such friendly relations with the President of the Russian Federation is evident.