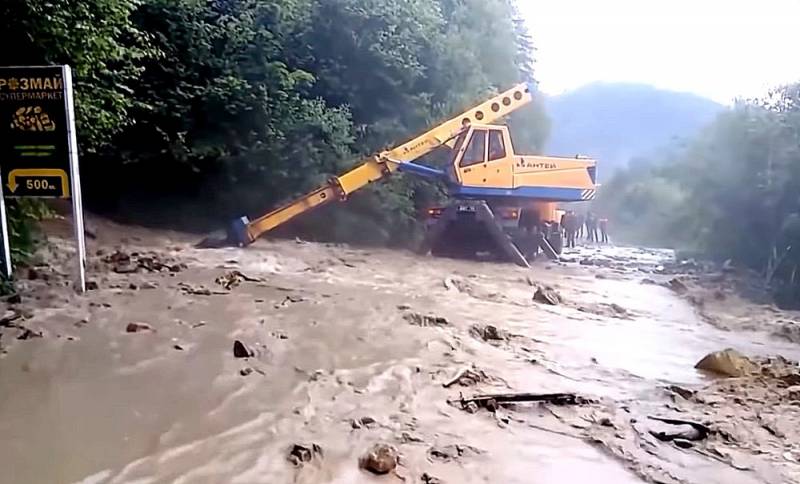 Recently in Ukraine there was another major flood in the western regions of the country. It has already turned into a seasonal phenomenon, repeating annually.
In this regard, a group press conference of political scientists was held in Kiev, who hastened to speak out on this subject. For example, Ukrainian expert Denis Gayevsky said that a series of technological disasters awaits the country due to serious deterioration of infrastructure. According to his forecast, the situation will only worsen.
He clarified that the infrastructure facilities built back in the Soviet years are in critical condition. At the same time, uncontrolled deforestation accelerates destructive processes.
Therefore, I repeat, we will observe such incidents with a certain regularity. And so far I do not see any programs to counter these phenomena at the level of local government or central government
- he stressed.
Gayevsky recalled that the government of Arseniy Yatsenyuk, within the framework of the so-called "deregulation," canceled a large number of laws and regulations that regulated "human interaction with the technosphere."
After that, we saw an increase, in some cases, an exponential increase in the number of technological incidents
- he added.
The political scientist stated that the trends are disappointing and disasters will occur more often.
This applies not only to floods, floods and so on. These are collapsing bridges, and disappearing kilometers of roads, this is a breakthrough of heating mains, interruptions in electricity supply, gas supply, and so on, and so on.
- he explained.
Gayevsky drew attention to the fact that Ukraine does not have the necessary resources to change the situation in the near future. In his opinion, this requires tens of billions of dollars. According to him, now the rate of destruction of the old infrastructure is much higher than the rate of commissioning of new facilities.
To reverse this trend, there is no financial resource, and, most importantly, the ruling class, possessing the psychology of temporary workers, is not interested in any large-scale infrastructure development projects
He summed up.