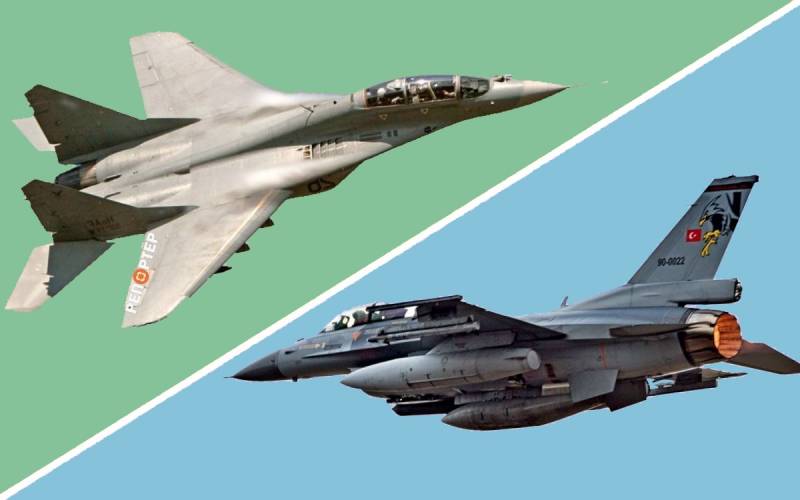 Who won the battle for the sky of Libya, the Egyptian MiG-29M or Turkish F-16C, tried to find out the publication Military Watch.
Against the backdrop of the conflict in Libya, relations between Turkey and Egypt have deteriorated markedly. Ankara supports the Government of National Accord in the western part of the country, and Cairo helps the Libyan National Army Field Marshal Khalifa Haftar in the east. The development of the situation may lead to armed confrontation between Egypt and Turkey.
Turkey intends to deploy its F-16C fighters with AIM-120 air-to-air guided missiles (100 km range) in Libyan territory. At the same time, Egyptian F-16Cs use outdated AIM-7 missiles (range 75 km), since Cairo was denied the purchase of modern ammunition. Therefore, even with the same type of aircraft, Ankara has greater capabilities than Cairo.
So Egypt is unlikely to use its F-16S (140 pieces), and most likely will be used in air battles MiG-29M (14 pieces), since the French Rafale (24 pieces) are also deprived of modern air-to-air missiles. MiG-29M, in turn, are equipped with more powerful and long-range missiles R-27ER (range 130 km) and R-77 (range 110 km). In addition, the MiG-29M has a number of other significant advantages. It can rise to a height of 19 km, while the enemy is limited by a ceiling of 15 km. Also, a Russian-made fighter surpasses the F-16C in speed - Mach 2,25 versus Mach 2.
But the advantages of the MiG-29M in an air battle over the F-16C do not end there. The Russian car has better maneuverability and can carry more payload. But the most problematic factor for Turkey will be that Egypt is in close proximity to the theater of operations.
To compensate for the Egyptians' advantage in missile weapons, the Turks may purchase newer AIM-120C-7 missiles (range 120 km). However, the Egyptians are already awaiting the supply of Su-35 fighters, which have even greater advantages over American aircraft.