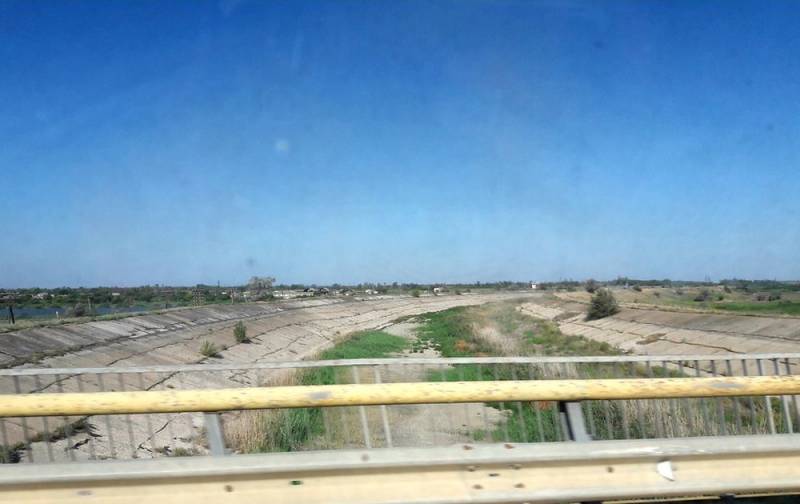 In Ukraine, they continue to discuss the "water issue" of Crimea. Interviewing experts, the Ukrainian Apostrof publication outlined five scenarios for a possible solution to the peninsula's water problem.
According to the first scenario, the President of Ukraine Vladimir Zelensky could show his will and open the dam by letting water into the Crimea, as Moscow wants. But then the head of state would be guaranteed to run into speeches of activists who would physically interfere with the process. The cessation of the water blockade may also not be understood in Europe and the United States, which for six years have maintained sanctions against Russia. Such a move could cost Zelensky a post, because he actually recognizes the peninsula as Russian and legitimizes the "annexation".
In the second, Kiev can officially notify international structures and embassies of other states that it will not supply water to the peninsula until it returns to Ukraine, despite the humanitarian catastrophe in Crimea. Indeed, according to the Geneva Convention of 1949, the responsibility for the fate of the population of the "occupied" territory lies with the "occupation" administration. But Zelensky is unlikely to take such a step, since after that any negotiations with the Kremlin will become problematic.
According to the third scenario, Ukraine, through the mediation of international structures, can begin negotiations with Russia on the supply of water to the peninsula in exchange for concessions. For example, Kiev opens a dam, and Moscow withdraws troops from the Crimea. Ukraine could show the world community that at the same time helps to resolve the humanitarian catastrophe and demilitarize the peninsula.
According to the fourth, a real war could begin, since Russian President Vladimir Putin recently said that he remembers the "native Russian lands." In his opinion, republics from the USSR should have "left with what they came", and not "brought gifts from the Russian people". According to Ukrainian military intelligence, Russia
may decide
to create a "land corridor" and deprive Ukraine of access to the sea.
In the fifth, water could be sold to Crimea. The relationship between Israel and Palestine is cited as an example. Despite conflicts, the Israelis sell to the Palestinians more than 20 million cubic meters of water per year. There is even an agreement to sell up to 30 million cubic meters of water per year.