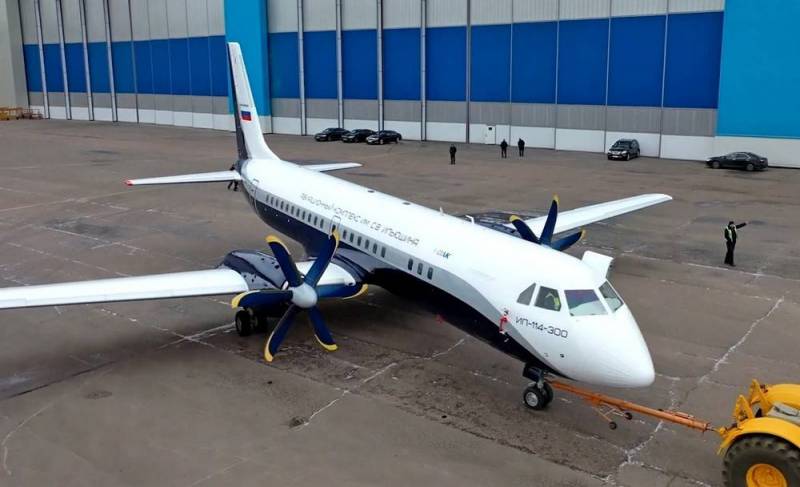 The assembly of the first IL-114-300 of a new series is entering the final stage. At the moment, the first fuselage compartments are docked. Then, in the third quarter, the wing consoles and the tail assembly will be docked. By the end of the year, the aircraft will be equipped with components of systems and engines, they will be inspected and transferred to the flight test complex. Certification of a new device is planned to be completed by 2023.
The assembly of the future "regional worker" takes place in the branch of RSK "MiG". Everything happens on an automated stand, consisting of four sequential work platforms.
It is worth noting that the IL-114 was developed back in the 80s of the last century. However, in the new project, only architecture remained from the previous machine. According to the developers, the promising IL-114-300 will be equipped with modern avionics and a power plant.
All this will provide a promising aircraft with advantages, both technically and economically. Moreover, in the AK. Ilyushin is emphasized that the "revived" IL-114 will be created entirely from domestic components and equipped exclusively with the Russian element base.
The new "regional manager", without exaggeration, will become a unique machine. The aircraft can be operated on the runway with a length of less than 1600 meters with asphalt and even dense soil. In addition, the principle of autonomy from airfield infrastructure is laid in its design, which means that the liner can be used at low-equipped airports in the Far East, Siberia and other regions of the North.
Recall that the promising IL-114-300 will be able to take on board up to 68 passengers or 6,5 tons of payload. The maximum take-off mass of the new aircraft will be 23,5 tons, while the device will be able to cover a distance of 1900 km and develop a cruising speed of 500 km / h.