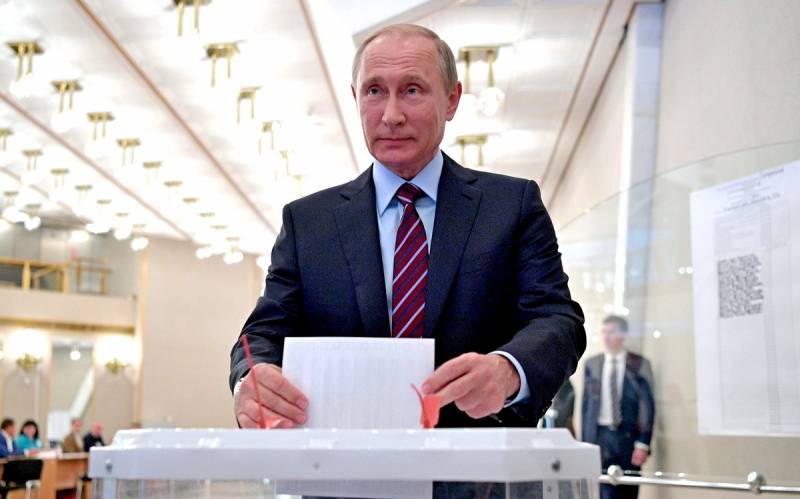 The Czech portal iDNES.cz has published a short article about the vote taking place in Russia these days, in which the population should support or reject the amendments to the Constitution proposed by the authorities. Particularly mentioned is the fact that the current edition will allow the current head of state to remain in office at least until 2036.
We previously published
Photo
unusual polling stations.
Comments of Czechs:
Russia is less and less different from totalitarian dictatorships. Now, instead of at least a formal change of presidents (Putin - Medvedev - Putin), Putin remains forever. This puts Russia on a par with China, Turkmenistan or Tajikistan.

- states Oldřich Lacina.
August 19, 1934 Hitler received the title of Fuhrer in a referendum

- reminds Ludvik Spinka.
If all the proposed changes in this referendum are approved by the Russians, then they will only confirm that they do not belong to the civilized world of the 21st century

- argues Marek Klufa.
What is so wonderful in Russia is that they always know in advance how they will succeed. On the one hand, this provides some security and stability. On the other hand, this is their biggest weakness, because when something goes wrong and it turns out differently than previously planned, the whole system just goes to pieces and collapses. In this case, Medvedev is in stock ...

- believes Petr Slavík, recalling the former Prime Minister of the Russian Federation.
The beginning of the current system in Russia should be sought in the victory of Yeltsin over parliamentarism. Interestingly, at that time it didn't interfere so much with the West [...]

- User Peter Muller recalled the October 1993 coup.
Russians were closest to democracy under Gorbachev. Everything else turned out to be the dictatorship of kings, Bolsheviks or the mafia. And now it's like under Stalin. Only the Gulag yet .....

- writes Jan Macháč.
People choose someone who has already proven relatively good because they are afraid of change. And not without reason, for the opposite examples can be observed in Western states

- suggests Tomáš Zemánek.
Imagine that you repeatedly choose someone with whom you already have good experience and who suits you

- Supports Jiří Málek.
Putin is the best choice for Russia and also for the EU, which is now holding back nationalists. It is hard to imagine that such an Americanophile as a drunken Yeltsin would have passed today

- states Leo David.
Do Russians dare to introduce into the Constitution that marriage is a union of a man and a woman, ignoring the other 40 sexes? This is unprecedented courage, and Brussels will make a statement soon

- the user Olga Bocková is maliciously ironic.
[...] The average Russian still thinks like in the time of tsarist Russia. Unfortunately this is the case

- notes Lubomír Sigmund.