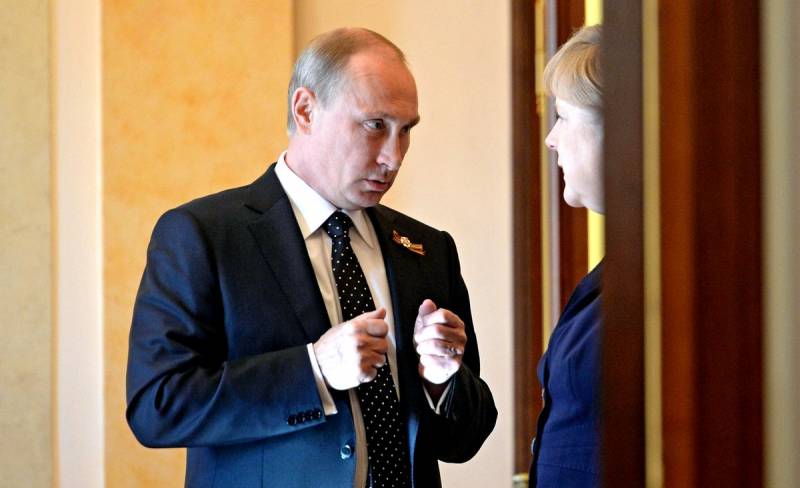 Thunderclouds gather over Nord Stream 2. The US is preparing another pact of sanctions. In the Bundestag, Chancellor Merkel was called on to abandon the construction of a gas pipeline from Russia in connection with the murder of a Georgian citizen in Berlin last year, which our compatriot was accused of. Due to "personal circumstances", the operating company Nord Stream 2 AG decided to leave its director Hennig Kote. Germany declares its readiness to protect this energy project from attacks, but is it really ready for this?
Berlin says they intend to give America an answer to sanctions against Nord Stream 2 at the European Union level. It sounds menacing, if you look, then in the end from this "roar" at the exit there can only be a "slurred whisper." What gives us reason to think so?
At first
, about any pan-European sanctions against the United States can not be discussed in principle. Germany in this matter is hostage to the bureaucratic mechanisms of the EU, requiring unanimity. To imagine how, for example, Riga, Vilnius or Warsaw approve of any anti-American sanctions, is extremely difficult.
Add to this that specifically against Nord Stream-2 a broad coalition has formed, which includes not only Latvia, Lithuania and Poland, but also Estonia, Czech Republic, Hungary, Slovakia, Romania, Croatia. One vote against is enough to put an end to the "pan-European retaliatory measures" against the United States.
Secondly
, causes great doubts and the readiness of Germany itself to lay breast on the embrasure for Gazprom. Yes, this gas pipeline is objectively beneficial to Berlin. The country is undergoing a "green revolution", it needs environmentally friendly fuel at a reasonable price. Yes, it's in her interests to become a major regional gas hub, which will strengthen her
economic
influence on neighbors. But if you have to choose between Russian gas and access to the American market, then the choice will not be made in favor of Gazprom.
Germany has a powerful export-oriented economy. The US domestic market is critical for her, which is well understood in Washington. Using the example of an immeasurably more powerful China, President Trump has shown that he is ready to wage an exhausting trade war until victory. If Berlin imposes its national sanctions against the United States, they will respond much harsher.
It remains to wonder why, in general, in Germany brought up the topic of "otvetki" to the Americans?
The first thing that comes to mind is Chancellor Merkel's attempt to save face. When European neighbors are guaranteed to bury her initiative for a consolidated response to Washington, she will be able to "turn the arrows" in the eyes of her constituents. And everyone understands this perfectly. There are practical considerations. The discussion on retaliatory restrictive measures may be the basis for a compromise between Berlin and Washington. Obviously, the United States will adopt a new set of expanded sanctions against Nord Stream-2. It is in Germany's interests to withdraw from them its port business and other infrastructure, one way or another involved in the construction and maintenance of the Russian pipeline. Given the active position of the German partners, the Americans can meet them.
As a matter of fact, that's the whole "formidable answer", which may turn out in the end.