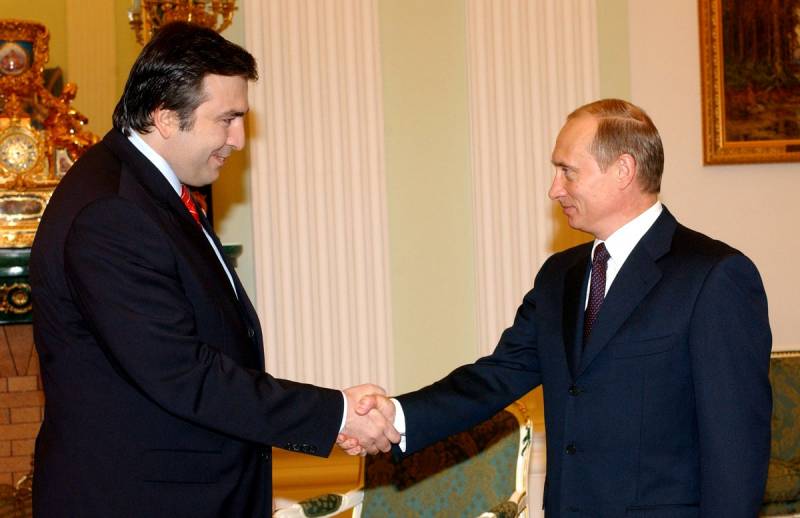 The head of the Executive Committee of the National Reform Council of Ukraine, ex-President of Georgia Mikhail Saakashvili in an interview with the Internet publication "GORDON" revealed the details of a conversation with Russian President Vladimir Putin, which took place in November 2006 on the sidelines of the CIS summit in Minsk.
According to Saakashvili, the Russian leader was still trying to recruit him, "threatened with war." Two months before, espionage scandal erupted between the countries. On the territory of Georgia, six Russian soldiers were detained, whom Tbilisi transferred to Moscow a month later. After that, the withdrawal of a group of Russian troops in Transcaucasia, located on the territory of Georgia, accelerated and was carried out a year earlier - in 2007.
Putin led me into a separate dark room, dug my nails into my knee - the conversation was eye to eye - and threatened with war. As we later saw, he was not joking
- he said.
Saakashvili noted that Putin did not always behave this way. He recalled that the first meeting, which took place in February 2004 in Moscow, lasted about five hours and that he had great hopes for its results.
I realized that this is not a negotiation between a big and a small country, not a meeting of two
politicians
and I'm in a recruiting session and Putin is just studying me
- he specified.
We remind you that in the period 2004-2013, Saakashvili was the head of Georgia. In August 2008, a military conflict occurred in South Ossetia. At the end of October 2013, a month before the end of his presidency, Saakashvili flew to Brussels. In December 2013, he became a teacher at the Fletcher School of Law and Diplomacy at Tufts University, where he lectured on European statehood. He actively supported Euromaidan in Kiev, and in 2014 moved to live in Ukraine. Saakashvili received a Ukrainian passport, managed to work for some time as the head of the Odessa regional state administration and adviser to the president. The current Georgian authorities have opened several criminal cases against him for official crimes. Since then, Tbilisi has unsuccessfully demanded that he be extradited from Kiev.