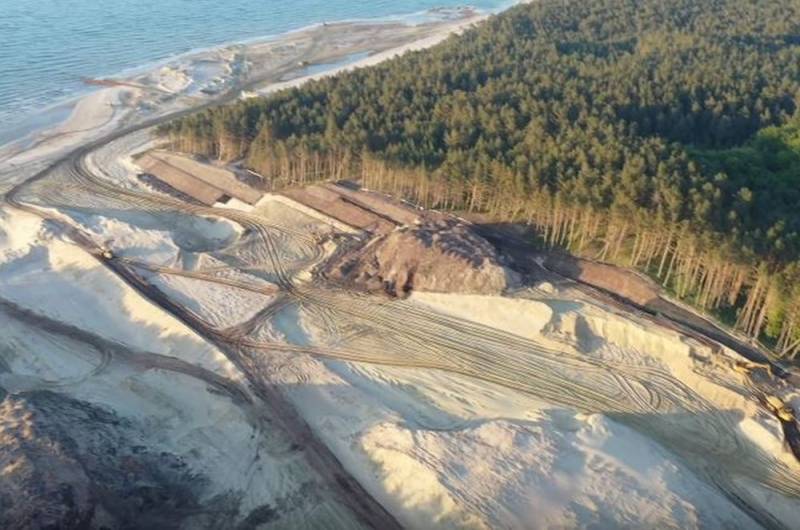 The canal under construction on the Baltic (Vistula) spit will not strengthen the country's defense capability, but will become a trap for the Polish fleet. This is stated in the report of the Institute for Security and International Development SDirect24 Foundation, presented to journalists by retired Major General Bohuslav Pacek.
It should be noted that this fund was founded in May 2019 by Pacek himself, who until November 30, 2016 was an adviser to the Minister of National Defense of Poland. He is also the editor of the site of the same name, operating under the auspices of the NATO DEEP (Defense Education Enhancement Program).
The submitted document says that the Polish government made a mistake in its initial appraisals of expediency and the construction of the canal would only facilitate the path for the Russian troops, without bringing any real benefit to the Poles. When the Polish authorities took up this project, they hoped that the channel would give a good
economic
return. But they miscalculated.
Construction estimates have more than doubled. Now it amounts to almost 2 billion zlotys (about 35 billion rubles). Warsaw has already begun to justify the construction of the canal with security and defense issues, i.e. they have already forgotten about the economic component. Indeed, the only beneficiary will be Russia.
This is due to the fact that the main cargo that will be transported through the channel will be Russian coal, which Russia will start exporting.
In the event of an armed conflict with Russia, the channel will not become an obstacle on the way, but will play a supporting role for the Russians rushing to Warsaw. Poland simply does not have specialized means that could be used there, but Russia has them.
It is unlikely that any fleet unit will squeeze through this channel. The port in Elblлонg is not able to accept warships. In addition, the Russians can block the construction
- added Pacek.
The Government and the Polish military at every opportunity accuse the opponents of the construction of representing Russia's interests. However, as the old saying goes, "A thief always shouts louder than others:" Catch a thief! "
- commented on the report of the social movement "Camp of the Vistula Spit."