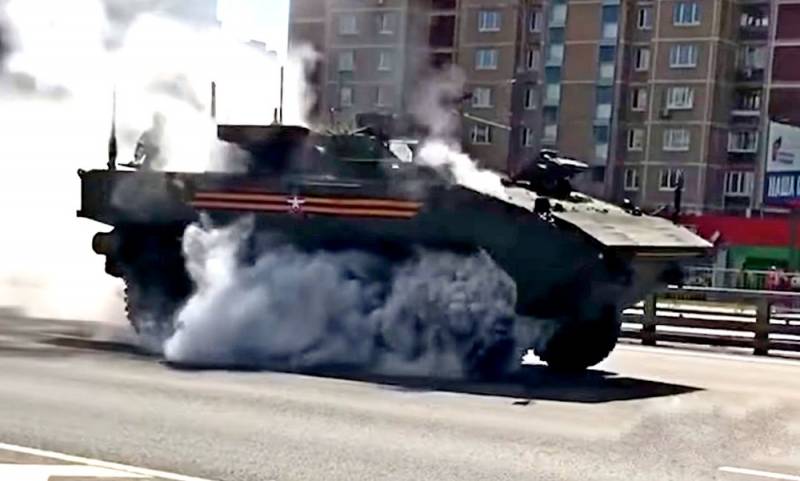 On June 24, 2020, in the North-Western District of Moscow, at the intersection of Mnevniki and Demyan Bednogo Streets, the new Bumerang armored personnel carrier (platform VPK-7829) was smoking, returning from the Victory Parade on Red Square. The corresponding video appeared on the web.
The frames recorded how the APC began to smoke heavily and, having traveled about 100-150 meters, stopped. He had some kind of malfunction. Then the army tow truck drove up and took the broken armored personnel carrier in tow.
Some Russians were surprised by the appearance of the steaming latest armored personnel carrier, so the comments of users of social networks were not long in coming.
Accidentally clicked the button for setting the smoke curtain, it happens
- joked xrapuncel.
Judging by the white smoke, the cylinder head gasket struck ... Or the pipe on the radiator burst
- suggested shurikk77.
And I think that the engine went into the spillway. Too much "smoke"
- considers nebzdyaschy.
This is what! Tu-160 directly over Red Square stalled - had to be towed in tow
- Witty ony10, indicating refueling in the air.
And over the Americans in Syria neighing. Oh well...
- Gishpansky Ukurok recalled.
Fighting
technique
, adopted for armament, designed for any operating conditions - this is one thing, and a machine undergoing tests is another
- explained Dmitry Chirkov.
It happens. Back in 2003, three APCs began to boil on the march, this is the same technique!
- remembered Lech Lexus.
Well, it didn't burn out, okay
- summed up Roman Studennikov.