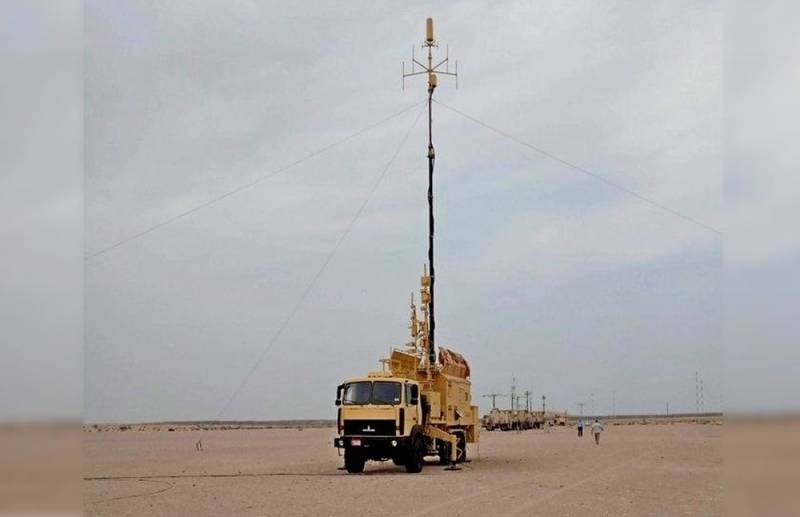 On the territory of Libya, the Belarusian R-934UM "Thunderstorm" complex (VHF interference station of the "Thunderstorm-6" band) was seen. The corresponding photo is published on the Web.
Sources specify that the station was transported to the North African country from the United Arab Emirates, which support the Libyan national army of Field Marshal Khalifa Haftar, opposing the Government of National Accord.
It should be noted that "Thunder-6" is intended for search, detection and radio suppression of VHF radio communication lines operating at fixed frequencies and in adaptive and programmed tuning of the operating frequency (AFC and PPRCH). These stations are manufactured in Minsk (Belarus), OJSC KB Radar, the management company of the holding company Radar Systems.
Thunderstorm-6 has a rapidly deployable antenna mast device. The deployment (coagulation) time of a crew of 4 people is 45 minutes. It has an expanded operating range of frequencies of radio reconnaissance and radio suppression. It detects and suppresses sources of radio emission both on the ground and in the air. It detects and locates sources of radio emission in the frequency hopping mode and suppresses the enemy's communication lines. The station can simultaneously suppress up to 28 radio lines at fixed frequencies.
Apparently, this was a response to the emergence in Libya of a large number of Turkish drones, which pose a special danger to the forces of the LNA.
We remind you that the international situation around Libya continues
heat up
. Recently, Ankara and Paris exchanged threats, and from Abu Dhabi they promised to help Cairo to conduct a military operation against the PNS.