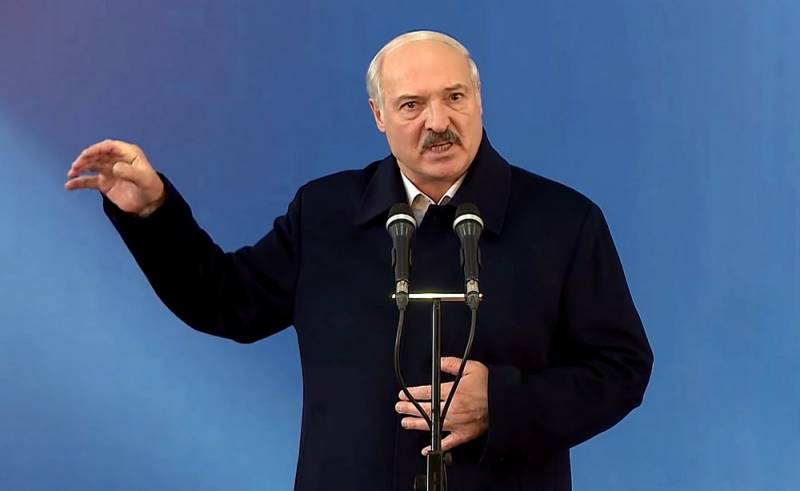 The President of Belarus often blames the West for his problems. However, now, on the eve of the presidential election, Lukashenko's mood has changed - he, losing control of the situation in the country, blames Russia for this. The American edition of The New York Times analyzes the Belarusian events and the attempts of the country's leader to shift responsibility for them to the hirelings of the Kremlin.
During a Friday speech on economic issues in the capital, Alexander Lukashenko announced the disruption of the plot of instigators of rebellion. A day earlier, Viktor Babariko, the former head of the Russian bank and current rival Lukashenko, was arrested in the presidential election in Belarus on August 9.
Masks are ripped off, not only from those who wear them, but also from their foreign owners
- commented Lukashenko on the arrest of Babariko.
Few people doubt that in this case the head of the country means Russia.
The youth of Belarus has long criticized the president, relying mainly on senior citizens who remember the times of the USSR. But the presidential campaign shows that the discontent of people is not exhausted only by the younger generation and affected
political
the elite of the country. The support of the political rivals of the current president is growing in Belarus. The rampant coronavirus also adds fuel to the fire, or rather, inept attempts by the authorities to cope with the epidemic. According to surveys conducted in April, only one third of the country's population trusts the current owner of Belarus.
Another rival of Lukashenko for the presidency, former businessman and video blogger Sergei Tikhanovsky, was arrested. He was also accused of ties to the Russian Federation through an oligarch affiliated with Moscow. According to investigators, $ 1 million was found in Tikhanovsky's house, and the authorities saw the Kremlin's hand in his activities.
According to the founder of the consulting company in Minsk and the Sense-Analytics research group Artyom Shraibman, now Lukashenko no longer blames the Western countries for all the troubles. Times have changed, and Russia is becoming the target of attacks by the president. Lukashenko's departure from the Russian Federation became especially noticeable after Mike Pompeo's visit to Belarus in February and the appointment of the US ambassador to Minsk. Alexander Lukashenko's mood is also affected by his disagreement with Moscow's position on the issue of oil and gas prices.
In case of aggravation of the situation, Lukashenko is ready to use the forces of the army. When visiting the 38th Brest Separate Guards Airborne Assault Brigade on June 22, the President said that the task of the troops now is to ensure security and stability in society.
In this situation, the task of the army and special operations forces is to defend the Fatherland, maintain stability and harmony in society. This is my order.
- said the Belarusian leader.