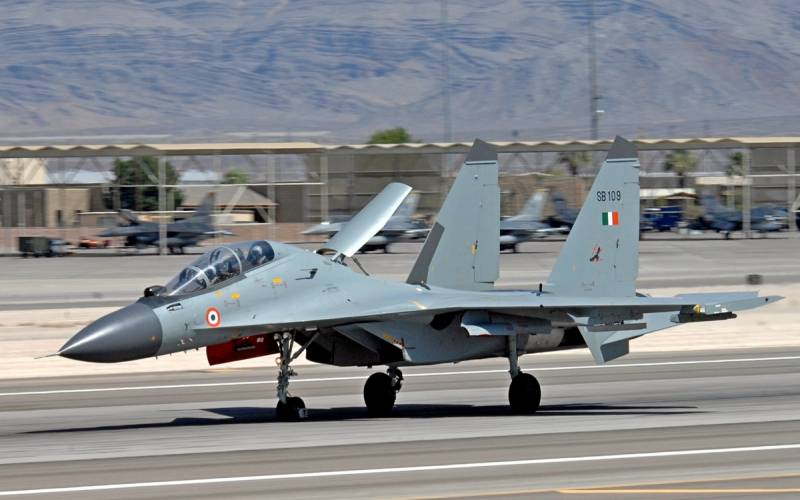 The Russian multi-purpose Su-35 Flanker-E + 4 ++ generation multi-purpose fighter designed to gain superiority in the air became the main contender for victory in the Indian tender. Russia has made an offer to India, which is difficult to refuse, according to the profile edition of the Defense Aviation Post.
DAP notes that the Russian combat vehicle is superior to its competitors in a number of ways. The aircraft has the highest payload, and its glider allows for highly maneuverable air combat. Moreover, the Indian media claims that the Su-35 is adapted for carrying hypersonic weapons.
The Defense Aviation Post claims that the Russians linked the proposal for the release of 114 Su-35 fighters in India with the possibility of modernizing the existing fleet of more than 250 Su-30MKI Flanker-N generation 4+. They offered to provide a number of
of technologies
Su-35, which can be used to upgrade the Indian fleet of Su-30MKI, which will significantly improve their performance. Engines and other systems of the Su-35 will be integrated into the Indian Su-30MKI, which will create interchangeability of spare parts, seriously reducing costs.
Note that the Military Watch also wondered which Indians would prefer a fighter - the Russian Su-35 or the American F-15EX. According to experts of the publication, the American fighter has a slight advantage in speed, but the Su-35 has better stealth and a more powerful Irbis-E radar, detecting multiple targets at ranges of over 400 km.