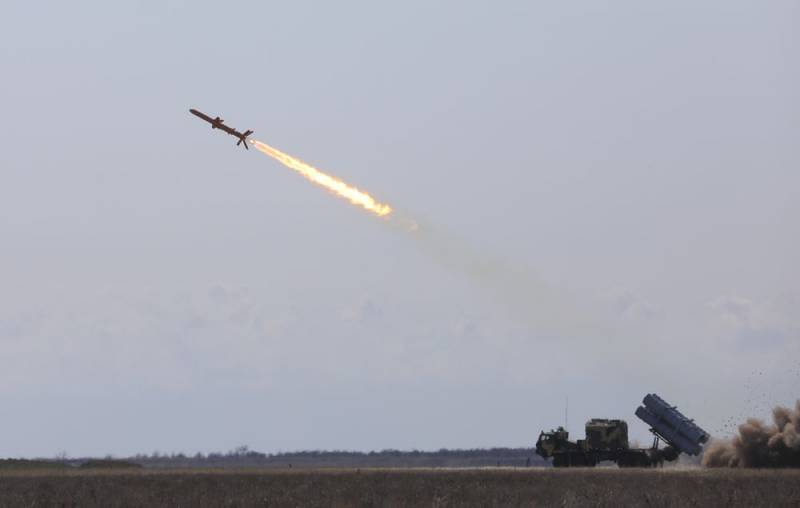 Russia has an absolute advantage over Ukraine in air and missile weapons. Consequently, the latest Ukrainian soil PKK RK-360MTs "Neptune", recently tested missiles to which
carried out
, you need something to cover up, because now they are almost defenseless, writes the Kiev weekly "Business Capital".
The publication decided to assess the prospects that will open before the Armed Forces after receiving the service of three RK-360MTs Neptune divisions (18 launchers and 96 missiles). Initially, Kiev needed new anti-ship missiles to deter the Black Sea Fleet of the Russian Navy. But now, "theoretically", the range of destruction by new Ukrainian missiles allows them to reach almost any target in the Crimea, and even reach Russian ships near Novorossiysk from the coast of the Sea of ​​Azov.
Then the publication began to speculate whether the Russians would be able to repulse the massive attack of Ukrainian missiles or not, as well as how effective the homing head of the R-360 missile is more effective than the Russian "counterparts from the 90s." After which the categorical conclusion was made that Ukrainian products are better.
Yes, and computer study is one thing, but practice is another
- confidently stated in the DS.
At the same time, attention was drawn that a significant part of the territory of Ukraine is within the radius of destruction of the "Russian military machine". However, the Armed Forces of Ukraine do not have new air defense systems that could protect the RK-360MTs "Neptune" from the Russian naval "Caliber", ground "Iskander" and air strikes of the Russian Air Force.
In any case, the appearance of the Neptune complexes in service will allow our military-political leadership to lead a much more aggressive
policies
on the Black and Azov seas. Unless, of course, the current leadership has such a desire
- convinced of the DS.
Moreover, the publication even suggested that the leadership of Ukraine "for starters" demand from Russia the return of the Odessa and Golitsyn gas fields in the Black Sea.