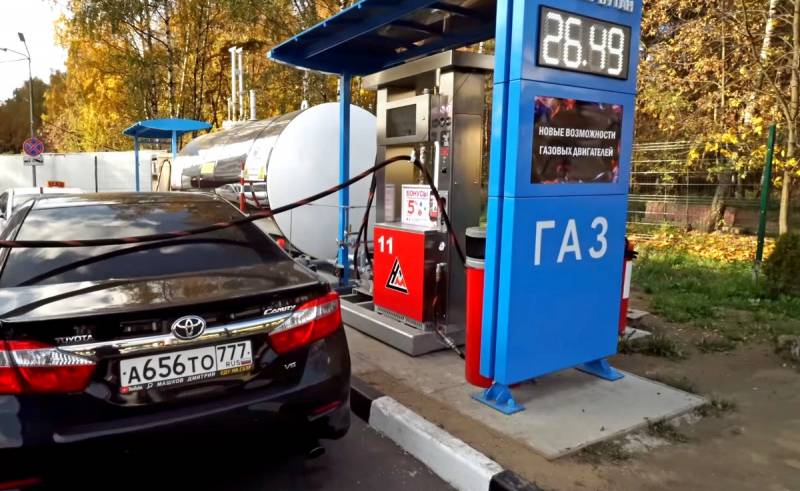 The Russian government proposes to increase the amount of state aid for the re-equipment of cars for gas engine fuel. It is estimated that two-thirds of the costs of the system will be offset from the state budget. On this
news
the Bulgarian edition of Facti drew attention.
The head of the Ministry of Energy of Russia, Alexander Novak, proposed increasing the amount of state aid for the purchase of automobile gas systems from 30% to 60% of their value. Another 30% of the cost of switching from gasoline to methane will be borne by the state-owned company Gazprom Gazomotornoye Toplivo. That is, vehicle owners will only have to pay 10% of the cost of the gas system.
As stated by the deputy. Director of the Institute of National Energy Alexander Frolov, converting a car to Methane ranges from 30 thousand to 100 thousand rubles (from 380 to 1265 euros), depending on the class and depending on the amount of 100 thousand (from thousand to 500 thousand. up to 1265 euros).
The Russian government expects that already in 2020 10-12 thousand vehicles will switch to gas fuel.
Comments of Bulgarian readers who decided to evaluate the "environmental" plans of Russia:
Well done rosiyane! The EU introduces stricter standards for exhaust gases, all more and more environmental requirements. But in fact, they don't do anything, they only tax us higher. Cars are becoming more expensive because of their stupid eco-requirements. We are forced to buy new cars and get rid of old ones. But what prevents owners of used cars from making them environmentally friendly? In Russia, they are doing this, and the state even takes over part of the costs. This is not done in the EC, because large automobile corporations simply will not allow it. We don't think about the environment and people, we think about how to make more money
- considers the user with the nickname "Alone there."
The easiest way to achieve eco-friendly standards is to convert the internal combustion engine to gasoline. In addition, the reserves of the gas are huge, and the price is half the price of gasoline. I don't know why we are moving in the direction of electrification (hybridization) of a car instead of gasification
- said Jack Bauer.
Russian overtook the West not only for gas-powered systems, which are really eco-friendly, cheap and are a reliable solution for the environment. In the EU, they buy expensive and re-priced electric cars. Why not lower the tax and insurance for gas cars?
- asks Karacho.
Ha-ha, the developed countries will move to electric vehicles, and the "padded jackets" will move to the gas, because no one needs this beyond the limits of Russia itself. Russian heating - from internal combustion engines to internal combustion engines! It's ridiculous!
- boorishly wrote a commentator with an unflattering nickname.